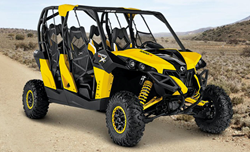 Washington D.C. (PRWEB) December 17, 2014
Precision Water & Power Sports, Jefferson City, MO, has been a Verified Vendor with US Federal Contractor Registration since February 2013. For the last two years Precision Water & Power Sports, a Veteran-owned and Woman-Owned Small Business, has been marketing their business directly to government buyers and procurement officers through a State Marketing Campaign recommended by Acquisition Specialist Peter Lanore. Since Precision Water & Power Sports began their State Wide Marketing Campaign they have managed to secure two contracts totaling $30,515.
During the initial qualifying process, Peter discovered available government contracts, agencies that have a history of buying their goods/services, spending trends among procurement officers, and the federal competition rate in their industry. Once the qualifying process was complete, Peter found that Precision Water & Power Sports would find success utilizing a State-Wide Marketing Campaign. Once it was decided to pursue a State-Wide Government Marketing Campaign in Missouri, Director of Marketing Max Timko created and distributed a Capability Statement for Precision Water & Power Sports to all of the government buyers in the state. Capability Statement distribution is one of the many ways businesses can create lasting connections with procurement officers. Once a vendor has developed a working business relationship with an agency it can lead to several other contracts and even Blank Purchase Agreements. Businesses can pursue state, region or even national-wide government marketing campaigns with US Federal Contractor Registration.
Below is a copy of a contract awarded to Precision Water & Power Sports from the Department of the Army, as recorded in the Federal Procurement Data System:
Vendor Name: PRECISION WATERCRAFT, INC.
Contracting Agency: DEPT OF THE ARMY
Date Signed: September 20, 2013
Action Obligation: $26,265
Contracting Office: W7NJ USPFO ACTIVITY MO ARNG
NAICS (Code): LAWN AND GARDEN TRACTOR AND HOME LAWN AND GARDEN EQUIPMENT MANUFACTURING ( 333112 )
PSC (Code): MOTOR VEHICLE MAINTENANCE AND REPAIR SHOP SPECIALIZED EQUIPMENT ( 4910 )
Vendor City: JEFFERSON CITY
Vendor DUNS: 861308869
Vendor State: MO
Vendor ZIP: 651018151
About Precision Water & Power Sports, Jefferson City, MO
Precision Water and Power Sports offers ATVs, UTVs and a one stop shop for all marine utility side-by-side needs. They also carry the full line of Yamaha, Mercury, Evinrude, Suzuki outboards along with other commercial grade units.
Precision Water and Power Sports maintains an incredible inventory of new and pre-owned off-road vehicles by Polaris and Can-Am, as well as Sea-Doo Personal Water-crafts. Their inventory is constantly changing to suit the needs of their customers. Whether a business is looking to buy, sell, trade or consign, Precision Water and Power Sports is the best place to go to in all of central Missouri. Their parts and service departments have the certifications and resources to quickly maintenance a broken machine and have it operational after a short period of time.
Precision Water & Power Sports Vendor Profile
DUNS: 861308869
CAGE: 53JU4
Active in SAM; Registration valid until 12/12/15
Veteran Owned Small Business
Veteran Owned Business
Woman Owned Small Business
Woman Owned Business
North American Industry Classification System (NAICS) codes:
441222 - Boat Dealers
441228 0 Motorcycle, ATV, and All Other Motor Vehicle Dealers
Procurement officers or prime vendors interested in contacting Precision Water & Power Sports about available federal opportunities can contact Owner Phyllis Prenger at (573) 395-4044 or by email at phyllis(at)teampwps(dot)com.
Businesses that would like to speak with Peter Lanore about qualifying their business for government contracting or begin the enrollment process in the Simplified Acquisition Program can call (877) 252-2700 Ext 751.
Does your business qualify for government contracting? US Federal Contractor Registration, the world's largest third party registration firm helps qualify businesses for government contracting. During the qualifying process, a series of research assessments to will be conducted to discover if a business qualifies for any federal set-asides, if they are currently available to accept federal work and a number of other qualification procedures to determine where a business stands in the federal marketplace.