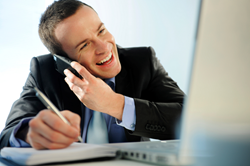 Washington D.C. (PRWEB) January 06, 2015
ProAnswering Service (Fife, WA) has been a Verified Vendor with US Federal Contractor Registration since December 2012. ProAnswering Service started working with Acquisition Specialist Peter Lanore to find a federal brand awareness campaign that would best fit their business model. Shortly after conducting the required qualification process, it was decided that enrolling into the Simplified Acquisition Program would be the best marketing decision for ProAnswering Service. The Simplified Acquisition Program provides a business with a government registration, federal small business database profiles, lists of government buyers and prime vendors, a federally formatted website, and a customized government business plan.
ProAnswering Service has currently won a total of three government contracts for a total of $19,073 thanks to the Simplified Acquisition Program and the guidance of Peter Lanore. The three contracts awarded to ProAnswering Service were through the same Department of the Army procurement officer in Tacoma, WA .
Below is a contract awarded to ProAnswering Service by the Department of the Army, as posted to the Federal Procurement Data System (FPDS):
Vendor Name: PROANSWERING AND BUSINESS SERVICE
Contracting Agency: DEPT OF THE ARMY
Date Signed: November 27, 2013
Action Obligation: $9,237.3
Contracting Office: W6QM MICC-JB LEWIS-MC CHORD
NAICS (Code): TELEPHONE ANSWERING SERVICES ( 561421 )
PSC (Code): IT AND TELECOM- TELECOMMUNICATIONS AND TRANSMISSION ( D304 )
Vendor City: TACOMA
Vendor DUNS: 191473800
Vendor State: WA
Vendor ZIP: 984243429
About Pro Answering Service (Fife, WA)
In 1988, after several successful years working in telephone operations and services with a large local hospital, Janet Train began ProAnswering Service with a chair, a desk and a telephone. Since then the company has grown to become one of the Northwest's premier call answering services. They pride themselves in their highly professional and accurate staff but also maintain the most up-to-date equipment, and offer timely and efficient services. They are currently licensed in the State of Washington and the City of Fife, Washington. They are also capable of assisting clients nationwide and are very proud of their newest addition, their HIPAA compliant message service. No matter how small or large a business, their callers and customers always talk with a professional, experienced operator. Customers will appreciate that much more than an answering machine.
In recent years, due to their diligence and standard of high quality customer service and professionalism, they have grown to over 1,000 clients. ProAnswering Service strives to provide only the absolute best in answering services anywhere, everyday. They provide continual training for their professional operators. They have also upgraded equipment and are available 24 hours each day, 365 days a year.
ProAnswering Service Vendor Profile
DUNS: 191473800
CAGE: 4XNV6
Active in SAM; Registration valid until 12/28/2015
Small Business
North American Industry Classification System (NAICS) codes:
561421 - Telephone Answering Services
Federally Formatted Website: http://www.proansweringservicegov.com/
Purchasing officers and prime vendors can contact Janet Train, Owner/President of ProAnswering Service at (253) 922-7440 or by email at jan(at)proansweringservice(dot)com.
Businesses that would like to learn more about the Simplified Acquisition Program or determine if they qualify for government contracting can call Peter Lanore at (877) 252-2700 Ext 751. Vendors that would like to learn more about enrollment can watch the online video or read in-depth details about the Simplified Acquisition Program at http://www.simplifiedacquisitionprogram.org/.