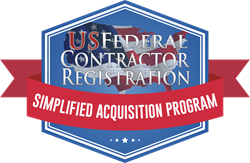 Washington, DC (PRWEB) January 14, 2015
Pacific Isles Fire Protection (Waianae, Hawaii) has been a Verified Vendor with US Federal Contractor Registration since May 2014. While enrolled in the Simplified Acquisition Program, Pacific Isles Fire Protection won a government contract from the Department of Veteran Affairs for $4,931. Prior to their enrollment process, Acquisition Specialist Peter Lanore conducted a qualification assessment to determine if Pacific Isles Fire Protection would be a good fit for government contracting. It is important vendors conduct a qualifying process with US Federal Contractor Registration in order to find out if government contracting is suited for their business.
After reviewing their business model and assessing their qualifications, Peter Lanore decided a Simplified Acquisition Program would be the best solution to maximize their chances of winning government contracts. Pacific Isles Fire Protection is also currently in the process of completing their VetBiz Registration with Professional Case Manager assistance from US Federal Contractor Registration.
The Simplified Acquisition Program is designed to target procurement officers and government buyers that have a history of buying a specific trade, service or product. The Simplified Acquisition Program allows contractors to make real connections with buyers across the nation. Once a solid foundation of networking has been constructed, contractors have more of an opportunity to win micro-purchases and simplified acquisition contracts.
Below is a copy of the contract awarded to Pacific Isles Fire Protection from the Department of Veteran Affairs, as recorded in the Federal Procurement Data System (FPDS):
Vendor Name: NAKI, DOMINIC A
Contracting Agency: VETERANS AFFAIRS, DEPARTMENT OF
Date Signed: June 01, 2014
Action Obligation: $4,931.5
Contracting Office: 261-NETWORK CONTRACT OFFICE 21
NAICS (Code): ALL OTHER SUPPORT SERVICES ( 561990 )
PSC (Code): INSPECTION- FIRE CONTROL EQUIPMENT ( H312 )
Vendor City: WAIANAE
Vendor DUNS: 556106339
About Pacific Isles Fire Protection (Waianae, Hawaii)
Pacific Isles Fire Protection is a fire protection company that services, refills and repairs, fire extinguishers. They inspect customer fire extinguishers annually, or monthly if needed, and provide a detailed report of serviceability and replacement of extinguishers if necessary. They also sell new fire extinguishers as well. They have been in business for nine years and have 22 years of experience in this type of industry. They believe that trust is a key ingredient in customer relations, which is sometimes lacking in today's business like atmosphere.
Pacific Isles Fire Protection is based in Hawaii and serves the local government as well as private industries. They are considering expanding into other states possibly in a year or two. They are also working with the Veterans Department in Hawaii and have been awarded a new contract with them while enrolled in the US Federal Contractor Registration Simplified Acquisition Program. Their customer relations are really what sets them apart compared to most others in their industry. Pacific Isles Fire Protection prioritizes their service calls from customers, especially emergencies within an 8-12 hour window. They pride themselves in prompt service and show times as scheduled.
The fire safety business is growing at a very rapid rate nationally and especially in Hawaii. The hotel and housing markets is seeing a boom in building permits and construction. The industry is very vital to the safety of the public and government alike, being out of compliance is not an option. Because the citations and its costs are steeper than the cost of maintaining your fire protection equipment, is the reason why most customers understand that safety and compliance is very important to running a good business. Pacific Isles Fire Protection helps support the youth by donating time and financial donations to the local football leagues to keep kids occupied with positive sport involvement and social interactions.
Pacific Isles Fire Protection (Waianae, Hawaii) Vendor Profile
DUNS: 556106339
CAGE: 5UD31
Active in SAM; Registration valid until 05/28/2015
Woman Owned Small Business
Minority Owned Business
Service Disabled Veteran Owned Small Business
Veteran Owned Small Business
North American Industry Classification System (NAICS) codes
423990 - Other Miscellaneous Durable Goods Merchant Wholesalers
922160 - Fire Protection
Government buyers and prime contractors interested in contacting Pacific Isles Fire Protection with available opportunities can contact President/Owner Dominic Naki at (808) 845-8239 or by email at pifp@hawaiiantel.net.
Businesses that would like to speak with Peter Lanore of US Federal Contractor Registration about the enrollment process in the Simplified Acquisition Program or determine if their business qualifies for government contracting can call (877) 252-2700 Ext 751. Vendors who would like to learn more information about the Simplified Acquisition Program can visit http://www.simplifiedacquisitionprogram.org/.