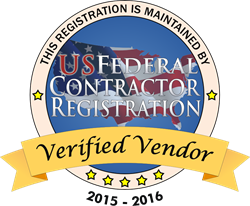 Washington D.C. (PRWEB) January 22, 2015
Verified Vendor Gary Wolfe Toxicology, LLC has been registered with US Federal Contractor Registration since August 2014. Dr. Gary Wolfe is a board-certified toxicologist with over 30 years of experience in the conduct of nonclinical animal studies, supervision of GLP animal laboratories, and preparation of regulatory submissions and documents. He received his M.S. and Ph.D. from Purdue University in 1976 and 1978. Dr. Gary Wolfe is also a member of the Society of Toxicology, American College of Toxiology, and Teratology Society. When Gary discovered that his business needed to be federally complaint in order to accept government contracts he contacted US Federal Contractor Registration. After ordering online and speaking with an Acquisition Specialist, owner Gary Wolfe knew he had made the right decision having his government registration professionally maintained. Shortly after his first initial call, Gary Wolfe Toxicology, LLC became registered in System for Award Management (SAM) and was officially recognized as a certified United States government contractor.
Only a month into their registration, Gary Wolfe Toxicology, LLC won a government contract from the National Institutes of Health. Below is a copy of the recorded award from the Federal Procurement Data System (FPDS):
Vendor Name: WOLFE TOXICOLOGY, LLC, GARY
Contracting Agency: NATIONAL INSTITUTES OF HEALTH
Date Signed: September 26, 2014
Action Obligation: $37,500
Referenced IDV: HHSN271201400014I
Contracting Office: NIH, NIDA, OD OM OA OFC ACQUISITIONS
NAICS (Code): OTHER SCIENTIFIC AND TECHNICAL CONSULTING SERVICES ( 541690 )
PSC (Code): SUPPORT- PROFESSIONAL: OTHER ( R499 )
Vendor City: HERNDON
Vendor DUNS: 036632328
Vendor State: VA
Vendor ZIP: 201702565
Gary Wolfe Toxicology Vendor Profile Report
DUNS: 036632328
CAGE: 6CUX7
Expiration Date: 08/11/2015
North American Industry Classification System (NAICS) codes
541690 - Other Scientific and Technical Consulting Services
541711 - Research and Development in Biotechnology
541712 - Research and Development in the Physical, Engineering, and Life Sciences (Except Biotechnology)
When a business decides to hire the professionals at US Federal Contractor Registration to manage their mandatory System for Award Management (SAM) registration, they are reassured their federal account is in good hands. US Federal Contractor Registration has registered over 65,000 businesses to date in order to be eligible to win government contracts. Their experience and customer service in the government registration process is second to none. US Federal Contractor Registration's numerous media accolades shows businesses that they are the leading third party government registration in the world. Gary Wolfe Toxicology, LLC can now accept a five year IDIQ government contract recently offered to their business thanks to the services of US Federal Contractor Registration.
Businesses also choose to use US Federal Contractor Registration's government marketing programs to increase their odds at winning government contracts. Government marketing campaigns like the Simplified Acquisition Program have helped businesses discover federal marketplace spending trends, available federal set-asides, and even ways to network with government buyers across the nation. These advances in the government marketing solutions contribute to the billions of dollars in federal awards US Federal Contractor Registration has won for their existing clients.
Government buyers or prime contractors that would like to contact Gary Wolfe Toxicology, LLC can contact owner Gary Wolfe at (240) 499-4018 or by email at gary(at)gwtox(dot)com.
Businesses that would like to become a registered government contractor or learn more about government marketing solutions like the Simplified Acquisition can speak with Acquisition Specialist Nicole Smith at (877) 252-2700 Ext 732 or visit http://www.simplifiedacquisitionprogram.org/.