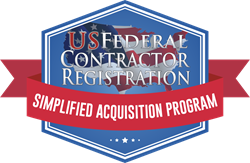 Washington D.C. (PRWEB) February 28, 2015
Robert F. Audet, Inc enrolled in the Simplified Acquisition Program in January 2013, and as a result won 6 federal contracts totaling $479,184. Tammy Helgren of US Federal Contractor Registration suggested that the Simplified Acquisition Program would be the best government-marketing program for their business model based on their business goals. Robert F. Audet, Inc has managed to become extremely successful in the federal marketplace from a direct result of the Simplified Acquisition Program. The Simplified Acquisition Program has proven to be the most efficient government-marketing program in 2014. US Federal Contractor Registration, the world's largest third party registration firm developed the Simplified Acquisition Program in an effort to help small businesses win simplified acquisition contracts.
Below is a contract awarded from the Department of the Army to Robert F. Audet, Inc as found on the Federal Procurement Data System (FPDS):
Vendor Name: ROBERT F. AUDET, INC.
Contracting Agency: DEPT OF THE ARMY
Date Signed: November 06, 2013
Action Obligation: $319,500
Contracting Office: W2SD ENDIST NEW ENGLAND
NAICS (Code): ELECTRICAL CONTRACTORS AND OTHER WIRING INSTALLATION CONTRACTORS ( 238210 )
PSC (Code): REPAIR OR ALTERATION OF RESTORATION OF REAL PROPERTY (PUBLIC OR PRIVATE) ( Z2QA )
Vendor City: EAST GREENWICH
Vendor DUNS: 620823930
Vendor State: RI
Vendor ZIP: 028181422
About Robert F. Audet, Inc
Robert F. Audet, Inc. was incorporated in the state of Rhode Island in 1990. Their focus is technically complex electrical installations. They perform all phases of commercial, industrial and governmental electrical work: Medium voltage, low voltage, and systems – including fire alarm, security, and telecommunications. They have an in-house team of certified medium voltage splicers. All of their electricians are licensed, some holding more than one license. Their electricians hold certificates in many other disciplines needed in their work, i.e. lift licenses, CPR site aid, confined space, etc. All employees are OSHA 10 qualified. Their company is a member of Associated Builders and Contractors.
Robert F. Audet, Inc Vendor Profile
DUNS: 620823930
CAGE: 0SDX2
Active in SAM; Registration valid until 1/31/201
Small Business
North American Industry Classification System (NAICS) Codes:
238210 - Electrical Contractors and Other Wiring Installation Contractors
Federal Purchasing officers looking for information on Robert F. Audet, Inc please call Laura Ley at (401) 884-3310 or visit their Federally formatted website at http://www.rfaudetgov.com/.
Tammy Hellgren can be reached at 1(877) 252-2700 Ext 718 to discuss Simplified Acquisition Program enrollment for both federally registered and unregistered businesses. US Federal Contractor Registration is the only firm allowed to qualify and maintain the simplified acquisition program. For businesses interested in learning more please visit http://www.SimplifiedAcquisitionProgram.org.