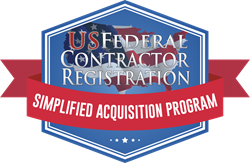 Washington D.C. (PRWEB) March 06, 2015
Printer Repair Depot (San Diego, CA) has been a Verified Vendor with US Federal Contractor Registration since May 2014. While enrolled in the Simplified Acquisition Program, Printer Repair Depot won a government contract from the Printer Repair Depot for $5,300. Prior to their enrollment into the Simplified Acquisition Program, US Federal Contractor Registration administered a qualification assessment to determine if Printer Repair Depot would be a good fit for government contracting. This qualification process will help determine if a business has available opportunities in the federal marketplace that meet their criteria. It is important vendors conduct a qualifying evaluation with US Federal Contractor Registration to discover current solicitations, follow government spending trends and find out if their business qualifies for any federal set-asides.
After Acquisition Specialist John Wayne reviewed their business model and assessed their qualifications, it was decided a Simplified Acquisition Program would be the best solution to maximize Printer Repair Depot's chances of winning government contracts and networking with procurement officers across the nation.
The Simplified Acquisition Program is designed to target federal officials and government buyers that have a track record of buying a specific product or service. The Simplified Acquisition Program helps create real connections and networking opportunities with federal buyers. Businesses currently utilizing the Simplified Acquisition Program feel more prepared to accept and government contracts.
Below is a copy of the contract awarded to Printer Repair Depot from the Drug Enforcement Administration, as recorded in the Federal Procurement Data System (FPDS):
Vendor Name: PRDREPAIR
Contracting Agency: DRUG ENFORCEMENT ADMINISTRATION
Date Signed: December 31, 2014
Action Obligation: $2,500
Contracting Office: DIVISION-SAN DIEGO
NAICS (Code): COMPUTER AND OFFICE MACHINE REPAIR AND MAINTENANCE ( 811212
PSC (Code): MAINT/REPAIR/REBUILD OF EQUIPMENT- MUSICAL INST/PHONOGRAPH/HOME RADIO ( J077 )
Vendor City: SAN DIEGO
Vendor DUNS: 079347368
Vendor State: CA
Vendor ZIP: 921111535
About Printer Repair Depot (San Diego, CA)
Their mission is to be the only name you need to know for all your printer and toner needs. Printer Repair Depot uses only the highest quality US Inks. All of their cartridges are 100% rebuilt to ensure highest quality performance and maximum usage.
Results have proven over again that their toners and inks will give consumers better print quality and higher page count per cartridge, thus increasing customer savings to their budget and bottom line. They also supply OEM's at very competitive prices as well.
Printer Repair Depot can provide all the consumables and parts that will keep consumer printers running at peak performance. If business owners are in the San Diego County region, Printer Repair Depot provides the highest quality service, maintenance and repairs for all Laser & Ink Jet Printers and plotters. Printer Repair Depot can also provide businesses with re-manufactured printers at very low prices. All of their machines they sell and service come with a 90 day full warranty to ensure quality and satisfaction.
Printer Repair Depot Vendor Profile
DUNS: 079347368
CAGE: 73FX8
Active in SAM; Registration valid until 04/07/2015
Small Business
North American Industry Classification System (NAICS) codes
443142 - Electronics Stores
811211 - Consumer Electronics Repair and Maintenance
811212 - Computer and Office Machine Repair and Maintenance
Government buyers and prime contractors interested in contacting Printer Repair Depot with available opportunities can contact owner Jack Stark at (858) 874-8262 or by email at jack(at)printerrepairdepot(dot)com.
Businesses that would like to speak with a live US Federal Contractor Registration Acquisition Specialist about the enrollment process in the Simplified Acquisition Program or determine if their business qualifies for government contracting can call (877) 252-2700 Ext 747 to speak with John Wayne. Businesses can also visit http://www.simplifiedacquisitionprogram.org/ to learn more about the Simplified Acquisition Program.