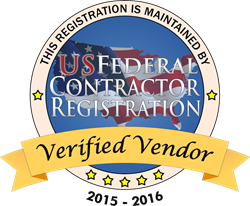 Washington D.C. (PRWEB) March 18, 2015
The United States Federal Government as of 03/17/2015 has 680 open Solicitations in Florida where they are currently seeking out properly registered government contractors. The Federal Government awarded 82,388 contracts in Florida for over 13 billion dollars in 2014 alone. Please see the below available contract released by US Federal Contractor Registration, additional Florida contracts can be found at https://www.uscontractorregistration.com.
US Federal Contractor Registration is reporting the release of the Fingerprint Units contract in Florida posted to FedBizOpps (FBO) on March 17, 2015. The Fingerprint Units Solicitation has a response date set for March 19, 2015. Every business interested in bidding on the Fingerprint Units Solicitation must be properly registered in System for Award Management(SAM), as well as have the North American Industry Classification System codes 334118 - Computer Terminal and Other Computer Peripheral Equipment Manufacturing, and 334 - Computer and Electronic Product Manufacturing filed in their SAM account/vendor profile.
Below is a copy of the Fingerprint Units Solicitation as originally posted to FedBizOpps (FBO) on March 17, 2015:
This combined synopsis/solicitation VA-248-15-Q-0835, for commercial items has been prepared in accordance with the format in FAR subpart 12.6 as supplemented with additional information included in this notice. This notice constitutes the only solicitation that will be issued. A quotation in response to this notice must be received no later than 2:00 pm EST Thursday March 19, 2015. The solicitation number, VA248-15-Q-0835, is issued as a Request for Quote (RFQ). This solicitation document and incorporated provisions and clauses are those in effect through Federal Acquisition Circular (FAC) 2005-056. No telephone requests will be accepted. Only written requests received directly from the requester are acceptable. It is the Offerors responsibility to ensure that the quote is received. The applicable North American Industry Classification System Code (NAICS) is 334118, Computer Terminal and Other Computer Peripheral Equipment Manufacturing; the size standard is 1,000 employees. OFFERORS MUST STATE THEIR BUSINESS SIZE when submitting their offer.
If an "equal" item is offered, the offeror must submit descriptive literature that conclusively establishes product equivalency and technical acceptability and compatibility at time of quote submission. Also, if the offeror is not the manufacturer of the quoted items, the offeror shall submit written evidence at time of quote that clearly verifies that the firm is an authorized distributor and/or reseller of the quoted products and an authorized installer/maintenance provider to ensure proprietary equipment, licensing, and warranties are not voided.
The Government intends to issue a firm fixed price contract. Offerors shall submit quotes on solicitation VA248-15-Q-0835. Quotes must be submitted electronically via email to mark.cline(at)va(dot)gov. The Subject Line of your email shall state: RFQ VA248-15-Q-0835 Quote Submission."
The offered items must be for New Equipment ONLY; NO remanufactured or "gray market" items. All items must be covered by the manufacturer's warranty. Bid must be valid for 30 calendar days after close of solicitation. Registration with the System for Award Management (SAM), pursuant to applicable regulations and guidelines is required prior to award.
Businesses that would like to learn how to bid on available opportunities or register in SAM can call Acquisition Specialist Peter Lanore at 1(877) 252-2700 Ext 751. Vendors have been enrolling in the Simplified Acquisition Program to win available government contracts, network with procurement officers across the nation, and qualify their business for government contracting. Businesses that would like to learn more about the Simplified Acquisition Program can visit http://www.simplifiedacquisitionprogram.org/.