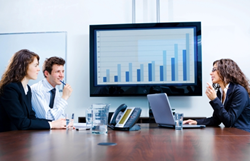 Washington D.C. (PRWEB) April 28, 2015
A Capability Statement is a business's government resume. Government contractors marketing directly to Government Buyers without a Capability Statement are lacking the essential tools for federal networking in 2015. These statements help educate contracting officials on the past performance of a business, personalized details of a business, and display federal information that is required of every active contractor. These Capability Statements can be used for a number of different utilities to help registered businesses win available government contracts.
A Capability Statement must simply provide the following information:

A business's name, point of contact, and contact information
DUNS number
CAGE Code
Active in System for Award Management (SAM)
GSA contract number (if applicable)
The business's primary goods and/or services
Applicable Federal Set-Aside eligibility (women owned, HUBZone, 8(a), etc)
North American Industry Classification System Codes (NAICS)
Product or Service Codes (PSC)
Brief description of a business's qualifications (Generally described in 250 words)
The top 3 reasons for creating a Capability Statement are:
1. Networking Events
A Capability Statement can be an excellent hand out during networking events. If you are attending a Chamber of Commerce event, a Federal Networking Ceremony or just a B2B luncheon it is smart for a business to have multiple copies of their Capability Statement. Save the Capability Statement on USB drives, paper handouts, Google Doc files, Dropbox files or even on a Government Formatted Website with a PDF download option. Every government contractor should be prepared with their Capability Statement at every event with potential opportunities.
2. Email Marketing Distribution
The Small Business Administration (SBA) encourages businesses to hire consultants to maximize their marketing potential and guide their business through the federal marketplace. US Federal Contractor Registration provides a Placement Specialist for every business looking to pursue government contracts and become properly registered. US Federal Contractor Registration will construct a customized Capability Statement for each business and send it to government buyers across the nation. Available marketing campaigns can be set for distribution based on a state, region or nation-wide distribution.
3. Request for Information (RFI) Opportunity
Government Buyers and Procurement Officers must always spend 23% of their overall contracting budget to properly registered small business contractors. That is around $100 billion every year devoted to small businesses. These Government Buyers will have micro-purchase contracts and simplified acquisition contracts that they have set aside specifically for businesses who meet their contract eligibility terms. If a Government Buyer is interested in the services of a contractor they will send a Request for Information (RFI) notice. An RFI is a standard business process whose purpose is to collect written information about the capabilities of various suppliers. A government contractor would then want to send their Capability Statement to said Government Buyer to provide all of the initial information needed for a Procurement Officer to begin processing the potential contract.
Recognized in the industry as the world's largest and most respected third party government registration, US Federal Contractor Registration helps small businesses market themselves directly to government agencies. They apply the same tools Fortune 500 companies use in order to win government contracts and establish business relationships with procurement officers across the nation. Their Simplified Acquisition Program has helped businesses win millions of dollars in the federal marketplace, and continues to be the top small business government marketing solution to date. Businesses that would like to learn more about enrollment into the Simplified Acquisition Program can contact Acquisition Specialist John Wayne II at 1 (877) 252-2700 Ext 747 or visit http://www.simplifiedacquisitionprogram.org/ to learn more.