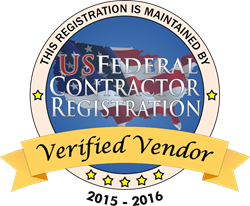 Washington D.C. (PRWEB) April 29, 2015
After the professional guidance and technical assistance of US Federal Contractor Registration, Global Electronic Recycling has been placed on the 899 Environmental Services Schedule with the General Services Administration (GSA). Gathering the information to submit a business for a GSA Schedule is no easy task. It is potentially the hardest government registration for a business to complete next to the 8a Program registration. According to the GSA, the Environmental Services Schedule 899 was designed to support agencies in meeting their environmental requirements and streamline the contracting process by providing a faster, more cost efficient means to meet environment requirements.
Eric Knellinger, President of US Federal Contractor Registration stated, "It is exciting to have another happy client. It is a testament to the fortitude of Global Electronic Recycling and their GSA Case Manager Jessica Summers. In fiscal year 2014, $340,953,019 was spent on the 899 Environmental Services Schedule. Global Electronic Recycling will be a big player in this sector of government contracting. Global Electronic Recycling is committed to working with the Federal Government and has long-term goals clearly in their sights. Our staff at US Federal Contractor Registration are excited about facilitating this process between Global Electronic Recycling and the United States Federal Government. This is how US Federal Contractor Registration got to be the largest government registration firm in the world with over 85,000 registrations completed to date."
GSA Schedules are extremely helpful when a business has their goods and services placed on a listing. In fact, 10% of all federal procurement in the United States is done through GSA Schedules. The GSA has produced over 19,000 Multiple Award Schedules (MAS) in fiscal 2013, in which 40% lead to sales for small business contractor services. Each year the federal government spends $30 to $40 billion on GSA Schedules, which is roughly 9% of the total spent on government contracts. Procurement Officers enjoy using GSA Schedules to award contracts because it is convenient for them to purchase your goods or services. The process works as an online shopping directory where procurement officers can simply order and purchase.
As of 2013, the GSA has created 41 available schedules that provide goods and services to federal procurement officers around the world. These schedules are a great way for businesses to establish long-term connections with contracting officers. The GSA even recommends government contractors to use a professional service to help them with all of the paperwork and filing that goes into a GSA Schedule, as it is a prolonged and extensive process. Each GSA Schedule is designed to act like a regular private sector commercial buying process. GSA Schedules make it easy to network with federal procurement officers, reduce inventories, create shorter lead-time between projects, and provide procurement with more choices.
About Global Electronic Recycling (Phoenix, AR)
Global Electronic Recycling (GER) has assisted thousands of industrial, commercial, military, and governmental clients with specialized recycling and asset recovery services since 1998 (15+ years). They provide manageable solutions and locate profitable end-markets for obsolete and recyclable materials. They take protecting the environment seriously and have been doing so since 1998. Global Electronic Recycling's zero landfill approach ensures that materials will be recycled to the fullest extent possible. This minimizes environmental impact, ensuring utmost corporate and social responsibility. They are headquartered in Phoenix, AZ and are a privately owned LLC. They are committed to meet or exceed their customer expectations and to provide continuous improvement of our processes.
Businesses and Procurement Officers can speak with Global Electronic Recycling representative Russ Enright to discuss contracting opportunities by phone at (623) 243-6021 or by email at russell@gerteam.com.
Businesses that would like to discuss how to begin the GSA Schedule process and start winning government contracts can call Johnathan Maness at 877-25202700 Ext 739.