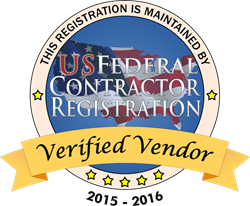 Washington D.C. (PRWEB) April 30, 2015
The United States Federal Government as of 04/29/2015 has 410 open Solicitations in North Carolina where they are currently seeking out properly registered government contractors. According to the new USA Spending website, the federal government has so far spent over $159 billion in government contracts over the course of 932,429 government transactions in 2015. North Carolina specifically has spent over $1 billion in government contracts in fiscal 2015. Please see the below available contract released by US Federal Contractor Registration, additional North Carolina contracts can be found at https://www.uscontractorregistration.com.
US Federal Contractor Registration is reporting the release of the Aircraft Parts and Components Solicitation in North Carolina posted to FedBizOpps (FBO) on April 27, 2015. The Aircraft Parts and Components Solicitation response date is current set in record for May 7, 2015. Every business interested in bidding on the Aircraft Parts and Components Solicitation must be properly registered in System for Award Management (SAM), as well as have the North American Industry Classification System codes 336413 - Other Aircraft Parts and Auxiliary Equipment Manufacturing, and 336 - Transportation Equipment Manufacturing filed in their SAM account/vendor profile.
Below is a copy of the Aircraft Parts and Components Solicitation as originally posted to FedBizOpps (FBO) on April 27, 2015:
This is a combined synopsis/solicitation for commercial items prepared in accordance with the format in Federal Acquisition Regulation (FAR) Subpart 12.6, as supplemented with additional information included in this notice. This announcement constitutes the only solicitation; quotes are being requested and a written solicitation will not be issued. This Request for Quote (RFQ) HSCG38-15-Q-010092 incorporates provisions and clauses in effect through Federal Acquisition Circular 2005-81. The applicable North American Industry Classification Standard (NAICS) Code is 336413. The small business size standard is 1,000 employees. This requirement consists of the following spare parts utilized on the HC-144A USCG aircraft. Line items 1-49 are MFGCD: 0117B.
The United States Coast Guard (USCG) anticipates award of a Firm-Fixed Price Purchase Order to the Original Equipment Manufacturer (OEM), or a distributor that can provide documented traceability for the components. Award will be made to the offeror quoting the lowest price technically acceptable to the USCG. All responsible sources may submit a quote which shall be considered by the USCG.
Only new items are acceptable. Reconditioned or used items are not acceptable. Offerors must be able to provide necessary certification including traceability to the OEM and provide a Certificate of Conformance (COC) to ensure parts are in airworthy condition, suitable for installation on USCG aircraft. Prospective vendors who are not the OEM must provide traceability for the materials. Traceability means a clear, complete, documented, audible paper trail which traces each step from an OEM or distributor to its current location.
Required delivery schedule is (SEE SCHEDULE) or less after receipt of order. The offerors shall propose a delivery schedule. All requests for time extension shall be in writing and shall include substantiation of the need for such time extension in accordance with FAR 52.212-4 (f), Excusable delays. If nonperformance is not covered by an excusable delay, the Contractor and the Contracting Officer shall negotiate consideration for the approval of the extended delivery date at which time a modification will be issued to reflect the consideration and extension.
Businesses that would like to learn how to bid on available opportunities or register in SAM can call Acquisition Specialist Peter Lanore at 1(877) 252-2700 Ext 751. Vendors have been enrolling in the Simplified Acquisition Program to win available government contracts, network with procurement officers across the nation, and qualify their business for government contracting. Businesses that would like to learn more about the Simplified Acquisition Program can visit http://www.simplifiedacquisitionprogram.org/.