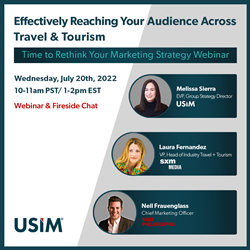 "We'll explore how brands can separate themselves from the crowd and take advantage of the opportunities in an emerging market across the travel and tourism space," Melissa Sierra, EVP Group Director, USIM
IRVINE, Calif. (PRWEB) July 11, 2022
USIM, one of the leading independent media agencies, and SXM Media, the preeminent audio entertainment company in the US, are coming together for a fireside chat covering everything marketers must know to remain competitive during this season of travel marketing.
Join USIM's Melissa Sierra, EVP, Group Strategy Director, and SXM Media's Laura Fernandez, VP Head of Industry, Travel + Tourism, along with VISIT PHILADELPHIA's CMO Neil Frauenglass, to gain unique perspectives and insights on which strategies are most effective for travel brands. - - This webinar will take place on Wednesday, July 20th, 10-11PST, 1-2pm EST.
Topics will also include how companies and brands can separate themselves from the crowd and take advantage of the opportunities in an emerging market across the travel and tourism space.
It will also focus on discovering the best ways to infuse your content marketing strategy and effectively reach your audience using data, digital, and social intelligence as consumers begin to travel again.
During this webinar you'll learn:

How travel brands are missing the mark in advertising. Why it's crucial to carve out a dedicated multicultural budget.
Holes identified in the marketplace and topic ideas for content generation.
What others are doing that works and observations across the industry.
It's not just leisure travel- but also business travelers are back.
How to be purposeful when it comes to GenZ. Are you all talk and no action?
Speakers

Effectively Reaching Your Audience Across Travel & Tourism: Time to Rethink Your Marketing Strategy
Wednesday, July 20th, 2022 – 10-11am PST/ 1-2pm EST
Webinar Link & Registration: Click Here to Register Now!
Open to the Public
SXM Media
SXM Media is your gateway to culture and the people who drive it. From artists to athletes, actors to influencers, and commentators to comedians, we have the voices listeners love and marketers need to deliver impactful advertising experiences that drive positive results.
Powered by leading audio formats, innovative ad tech, a first-to-market creative studio, and a premier content network, SXM Media gives marketers access to the most valuable currency there is: connection. We are with you every step of the way, helping you from ideation to execution and beyond.
VISIT PHILADELPHIA
VISIT PHILADELPHIA® is our name and our mission. As the region's official tourism marketing agency, we build Greater Philadelphia's image, drive visitation, and boost the economy.
On Greater Philadelphia's official visitor website, visitphilly.com, visitors can explore things to do, upcoming events, themed itineraries, and hotel packages. Compelling photography and videos, interactive maps and detailed visitor information make the site an effective trip-planning tool. Visitors can also find loads of inspiration on Visit Philly's social media channels.
USIM
As one of the leading independent media agencies, USIM delivers tangible results in a rapidly evolving technological and economic landscape. With a proven track record of strategic vision and effective omnichannel advertising solutions, USIM clients exceed their business goals. USIM's combination of cutting-edge research, results, and technology with human insight and creativity drives The Art of Human Sense™. For more information, please visit http://www.theusim.com.
###
For more information, please contact Carrie Ward, PR/Marketing for USIM at 508-208-6374 or CWard@theusim.com