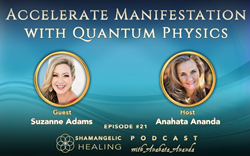 Give yourself permission to grow out of unhealthy relationships or toxic environments
SEDONA, Ariz. (PRWEB) November 07, 2019
When Shamangelic Healing founder, Anahata Ananda and Suzanne Adams, CEO and co-founder of Ignite and Expand got together on the Shamangelic Healing Podcast to discuss techniques using quantum physics to change people's lives, the number of downloads skyrocketed. With a trending focus on learning ways to use bio-hacking to enhance a person's body, productivity shortcuts to upgrade lifestyle, meditation to balance the work/personal-life dynamic and living life with purpose, Suzanne shares her techniques she's discovered while working from the quantum level. Her basis is firmly grounded in the foundation that everything is vibrating energy. From that premise, she lays out a process of attracting situations and people which are beneficial in assisting with moving toward goals more quickly.
Adams explains the underlying principles of "The Law of Attraction" and how emotional intensity can amplify manifestation and abundance. She states one of the most key elements to attract or repel that which is desired, is being aware of the current vibration one is in at any given time. On the smallest level, cells are vibrating at various frequencies, emitting messages out to their immediate world. From larger scale perspective, the cumulative effect of the energy being given off will begin to affect the vibration of the person as a whole. Adams explains that by understanding the value of stretching limiting beliefs and habits, one can begin to create vibrations which result in tangible changes in life. Anahata has implemented this knowledge into her online Quantum Leap Program which people can use to completely change the course of their lives over 12 months.
Anahata and Adams both point out the importance of keeping vibrations at the highest, most productive, healthy levels possible. An immediate influence are the interactions with people we are around the most. "Select your circle of influence wisely and give yourself permission to grow out of unhealthy relationships or toxic environments," states Adams. "Clear, conscious communication and boundary setting is a must," Anahata adds. Lowered vibrations due to stress, negative people or pessimistic thoughts can be a big influence. Both women describe the traps of living an inauthentic life to please others and how important it is to dream big. Adams outlines how to change the outcome resulting from blocks to successful manifestation and prosperity. Anahata assists people all over the world by providing the tools for maintaining healthy, conscious relationships through one of her online courses.
Suzanne Adams is on a mission to help people reach their highest level of potential. She is a thought leader in the field of spirituality, personal development, and heart-centered entrepreneurship. Adams is a bestselling author and transformational coach and TEDx presenter helping heart-centered entrepreneurs create and scale soulful businesses.
Anahata blends the compassion and tenderness of an Angel and the wisdom and strength of a Shaman to guide profound journeys of core healing and spiritual awakening. As a Certified High-Performance Coach, Shamanic Healer and Soul Guide, Anahata has guided thousands of individuals across the globe through core life shifts, helping them to turn their life around and create the life of their dreams. She is the host of the internationally acclaimed Shamangelic Healing Podcast which is designed as a platform for sharing deep authentic conversations about REAL LIFE issues. She offers deep healing through in-person sessions in Sedona, Arizona and supportive online courses for self-paced, at home learning. https://shamangelichealing.com