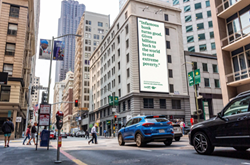 #UnfortunatelyFakeNews. Until it's real, please donate.
NEW YORK (PRWEB) September 13, 2021
Just last year, an additional 150 million people were plunged into extreme poverty, which means they are now trying to survive on less than $1.90 per day.
Meanwhile, billionaires are racing to space.
With the situation more dire than ever, Concern Worldwide – which has been on a 50+ year mission to end extreme poverty, whatever it takes – is going so far to reach its goal, it's exposing the corporations and billionaires who could do more to end extreme poverty.
In an advertising campaign titled #UnfortunatelyFakeNews, Concern will launch over 50 fake news headlines that report on real, tangible things the wealthiest, most powerful entities could do to end extreme poverty.
Example: "'SPACE CAN WAIT.' BILLIONAIRE PUTS PASSION PROJECT ON HOLD. REDIRECTS BILLIONS TOWARDS ENDING EXTREME POVERTY."
Utilizing language, sentence structure, typography, and layout design, typical of a reputable newspaper or major news network, each headline appears to be real, until it lands upon a reveal and a CTA:
#UnfortunatelyFakeNews. Until it's real, please donate.
To drive the point home, and even put the heat on corporations and people to end extreme poverty, #UnfortunatelyFakeNews will appear in high-profile, strategically-placed, out-of-home units in major cities.
Newscaster segments, featuring anchors and authentic network graphics & music, will disseminate #UnfortunatelyFakeNews in video pre roll.
Audio ads will run on podcast networks like Crooked Media and NPR.
The campaign will also appear across Facebook, Instagram, LinkedIn, Twitter, and YouTube. Most of these platforms are considered a breeding ground for fake news. But this is the first time they will see fake news being used, and spun, for a good cause.
In effect, Concern is pointing out the unjust disparity between the ultra-wealthy and more than 800 million people living on less than $1.90 per day. Beyond that, Concern is calling out the individuals who are best equipped to make a difference… and ultimately exposing the undeniable truth that, with so much wealth in the world today, there is no reason (and no excuse) for extreme poverty to exist.
Colleen Kelly, Concern Worldwide US's CEO said, "No one person, government, or organization can solve income inequality and extreme poverty on their own – we must all work together. Meaningful change requires all of us to recognize our individual responsibility and use our available resources intentionally, so they have a positive impact on the world. With #UFN we hope to bring more awareness to our crucially important mission of ending extreme poverty, whatever it takes."
Concepted and produced by FRED & FARID's LA outpost, #UnfortunatelyFakeNews is Concern's first-ever US advertising campaign.
ABOUT CONCERN WORLDWIDE:
Founded in 1968, Concern Worldwide is a global humanitarian organization dedicated to eliminating extreme poverty, whatever it takes We believe in a world where no one lives in poverty, fear, or oppression – where all have access to a decent standard of living and the opportunities and choices essential to a long, healthy, and creative life – a world where everyone is treated with dignity and respect. We work with 36 million people each year, in some of the hardest to reach and most fragile places – places prone to conflict, climate change, and hunger. Learn more at http://www.ufn.concernusa.org.