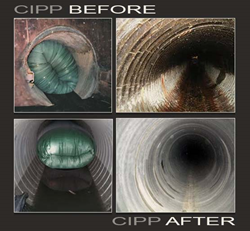 Cured-in-place pipe repair offers a no-dig solution to infrastructure rehabilitation
Philadelphia, PA (PRWEB) June 08, 2016
US Pipelining, LLC, an emerging leader in Cured-In-Place Pipelining solutions (CIPP), announced today the award of a major military project which includes the cured in place pipe lining and rehabilitation of nearly one thousand (1,000') linear feet of ten foot diameter (10') storm water piping located beneath the airfield apron of McGuire Air Force Base located in Burlington County, NJ.
"This is a monumental undertaking," states Gary Horwedel, General Manager of US Pipelining. "The storm pipes lay 22 feet below grade and run underneath the airfield apron. At a measure of 120" in diameter these lines present significant challenges," says Horwedel who has been involved in infrastructure rehabilitation and repair using trenchless technologies for over 25 years. "The planning, engineering and logistical requirements are critical for a project of this size and as the staging area is located directly on the airfield, time is of the essence."
"US Pipelining has completed numerous projects for the various branches of the US Military and the Army Corp of Engineers," states Jeremy Bowman, President, U.S Pipelining. "With this project, given the strategic location and size of the pipes, the materials are all engineered, designed and manufactured to meet military specifications. The resins, liner, and even machinery is all specifically engineered for this project, nothing is off-the-shelf," says Bowman.
A leader in CIPP trenchless technologies for industrial, commercial and municipal applications, US Pipelining continues to grow their government agencies portfolio which includes the US Military, NASA, Fort Knox, Government of Mexico, Cayman Islands and numerous agencies throughout North America.
About Cured-In-Place technology: Cured-In-Place Pipe technology (CIPP) is one of several "No-Dig" trenchless rehabilitation methods used to "noninvasively" repair existing pipelines. CIPP is a jointless, seamless, pipe-within-a-pipe with the capability to structurally rehabilitate pipes ranging in diameter from 4"–120". With a design life of 50 years CIPP is one of the most widely used rehabilitation methods and has application in water, sewer, gas, and chemical pipelines.
About US Pipelining: USP is an industry leader specializing in trenchless pipe rehabilitation technologies including cured-in-place pipe (CIPP). With more than 25 years experiences US Pipelining serves Fortune 500 clients, municipalities, highrise communities, government agencies, refineries and commercial operations globally.