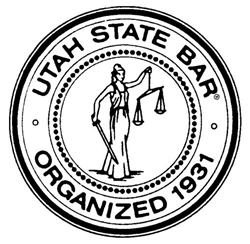 "There are people whose lives are devastated by debt, housing, employment, domestic, health and violence issues they cannot address within the legal system because of lack of money and resources."
SALT LAKE CITY (PRWEB) May 01, 2020
The Utah Bar Foundation has released a report addressing the unmet legal needs of lower-income Utahns. The report, entitled "The Justice Gap: Addressing the Unmet Legal Needs of Lower-Income Utahns," highlights the civil legal needs of the roughly 26% of Utah's population living at or below the 200% of the federal poverty guidelines.
The report's research will help stakeholders make better informed decisions on future policy making and the allocation of funding. The Utah Bar Foundation commissioned the report through research firm Utah Foundation.
"The numbers are frightening," said Shawn Teigan, Utah Foundation's Research Director. "This kind of stress has an impact on every facet of a person's life."
The Utah Foundation's random sample of 900 lower-income Utahns finds that 57% of households have at least one civil legal need, and 25% have three or more. Collection agency harassment and scams topped the list of legal needs for financial issues, and unpaid wages and unsafe working conditions were the main needs for employment concerns. Housing legal needs included shoddy living conditions and eviction threats.
The report also found a large segment of lower-income Utahns facing civil health legal needs, including being overcharged for services and unfair denial of coverage or treatment.
The report highlights that:

In the 62,000 debt collection cases filed, nearly 100% of petitioners (or those filing the case) have lawyers, compared to only 2% of respondents (or those whom owe the debt).
For the 14,000 eviction cases filed, 90% of landlords have lawyers compared with only 5% of tenants being evicted
Rural counties tend to have relatively low availability of legal representation available.
More lower-income Utahns try to solve their problems on their own because more than two-thirds of Utah's lower-income survey respondents indicated they could not afford a lawyer if they needed one.
"Helping people recognize that they have a legal need and providing them with the resources on how to resolve the problem is the underlying purpose of the report," said attorney Lori W. Nelson, President of the Utah Bar Foundation and past-president of the Utah State Bar.
Available legal assistance for low-income Utahns is capable of handling about 45,000 cases, while the need is estimated at around 240,000 cases. Most low-income households, and indeed most Utahns in general, are not represented in debt collection and eviction cases. Two-thirds of low-income Utahns say they could not afford and attorney if they needed one.
"This study was completed in the beginning of February 2020. Now with the COVID-19 pandemic, we anticipate even greater needs across the entire legal spectrum," said Utah Bar Foundation Executive Director Kim Paulding.
Thanks to the innovative ideas and partnerships being formed with Utah's legal aid providers, the Utah Courts and the Utah State Bar's Access to Justice Commission, which is co-chaired by retired Justice Christine Durham and Amy Sorneson with Snell & Wilmer, the Utah Bar Foundation hopes that additional lower-income Utahns will find the available resources they need to assist with their legal problems.
"Utah's court system has been keenly aware of the access to justice gap and has been actively working to innovate new ways where the public can get affordable legal help at a much lower prices than the traditional hourly rate," the Court said in a written statement. "Utah Courts have invested a significant amount of time and resources in narrowing this gap."
Measures by the court to reduce the gap include the creation of Licensed Paralegal Practictioners, who serve as mid-level legal providers, proposed regulatory reforms that, if approved, will allow lawyers and non-lawyers to combine to provide innovartions in legal services, and one of the most robust self-help centers in the country. The self-help center is staffed by attorneys who can help self-represented individuals through the legal process.
"There are people whose lives are devastated by debt, housing, employment, domestic, health and violence issues they cannot address within the legal system because of lack of money and resources," said Justice Durham. "This report must be a call to action."
Individuals needing help with a legal problems can reach out to United Way of Salt Lake's 2-1-1 Information and Referral line or visit utahlegalhelp.org.
This report, along with an executive summary and two presentation videos can be found at our website at http://www.utahbarfoundation.org.
The Utah Bar Foundation is an independent 501(c)3 organization founded in 1963 that grants funding to legal aid agencies that provide legal services to low-income Utahns and to provide funding for law-related education. The Utah Bar Foundation is a totally separate organization from the Utah State Bar.