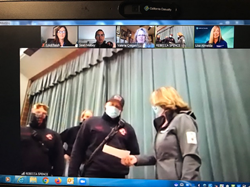 As 2020 was a most difficult fundraising year - California Casualty stepped up BIG to help us get more kids in coats just in time for the holidays
SAN MATEO, Calif. (PRWEB) January 19, 2021
California Casualty along with its long time partners, the Professional Firefighters Association of Utah (PFFU) and the National Education Association (NEA), recently came together to deliver 85 winter coats to children at risk through the PFFU Coats for Kids program.
Students at Redwood Elementary School in Salt Lake Valley's Granite School District will be a lot warmer this winter thanks to California Casualty, PFFU Local 2970, Star Orullian of Granite Education Association, Redwood Elementary School Principal Jolynn Koehler and NEA Member Benefits Affiliate Relations Specialist, Sean Mabey.
Coats for Kids was established in 2013 by the Professional Fire Fighters of Utah to combat one of the most fundamental hardships of childhood poverty- the absence of a warm winter coat.
For more than a decade, PFFU has watched the problem of childhood poverty creep mercilessly into the homes of the communities it serves. Poverty ravages families without discrimination – and by necessity those struggling to survive naturally prioritize food, heat, and rent above winter clothing.
In Utah, and many other communities across the country, the lack of a winter coat often results in frequent school absenteeism which translates to forgone learning, missed opportunities for socialization and play, and the loss of balanced nutrition provided through the school's meal program. Helping students stay warm as they walk to and from school leads to increased attendance, allowing children of families in need to experience the critical childhood benefits their school has to offer.
There is no denying the joy of a child being zipped into their brand new coat by their hometown heroes. Since 2013 the Professional Firefighters of Utah Coats for Kids drive has resulted in 2,198 coats purchased and provided to needy children in fourteen different elementary schools in Utah.
"What happened today at Redwood Elementary mattered to many little First Graders", said Sean Mabey "Seeing those little kids wearing coats, smiling and waving, will be a highlight for me personally this season".
Representing California Casualty, Assistant Vice President, Valerie Cregan commented, "It is truly an honor for all of us at California Casualty to join in support of our valued business partners in their efforts to help the children of the Salt Lake Valley community."
"The Professional Fire Fighters of Utah, and all of our IAFF Affiliate Locals are very proud of our ongoing Coats for Kids project. Our ability to supply coats is only possible through our members' fundraising efforts and our great partners such as California Casualty. As 2020 was a most difficult fundraising year - California Casualty stepped up BIG to help us get more kids in coats just in time for the holidays." Jack Tidrow, President.
ABOUT CALIFORNIA CASUALTY:
Headquartered in San Mateo, CA, with Service Centers in Arizona, Colorado and Kansas, California Casualty provides auto and home insurance to educators, higher education employees, firefighters, law enforcement, nurses and United MileagePlus members across the country. To learn more about California Casualty, or to request an auto insurance quote, please visit http://www.calcas.com or call 1.800.800.9410.