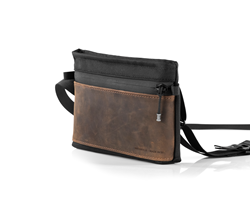 Carrying the Marqui is like one of those things in life that you didn't know you needed until after you've used it, and then you wonder how you ever got by without it.
SAN FRANCISCO (PRWEB) August 27, 2019
WaterField Designs, a San Francisco designer and manufacturer of custom laptop sleeves, bags and device-specific cases, introduces the Marqui Crossbody Pouch, a ruggedly-constructed, modern minimalist bag that merges practicality with high fashion. Handcrafted in WaterField's San Francisco sewing studio, the handsome ballistic nylon and full-grain leather Marqui crossbody bag holds essentials so conveniently and comfortably, it can be worn all day, leaving pockets liberated and hands free.
"The Marqui is so light and comfortable that you kind of forget you are wearing it. It wears well with just about any shirt and either over or under a jacket," Waterfield explained. "I used to come home and empty my pockets into the valet tray, but now the Marqui crossbody *is* my valet tray; it keeps everything together in one spot and ready to go."
Marqui Crossbody Pouch Features:

Premium, full-grain leather on rugged ballistic nylon creates an uncluttered, timeless look to compliment any wardrobe.
Front pocket holds a smartphone and other quick-access items and is secured with a smooth, water-resistant YKK zipper.
Self-locking YKK zipper secures the main compartment and hides under the bag's lip.
Two interior open-topped pockets help organize necessities.
Gold, rip-stop liner lights up the interior of both compartments making contents easy to locate.
Two small exterior loops on either side can hook to carabiners to hold Air Pods, a utility tool, etc.
Angled adjustable strap keeps the bag comfortably flat against the chest, hip, or back.
Metal camlock with attractive leather pull-tab easily tightens/loosens the strap.
Rear open pocket is ideal for stashing receipts, ticket stubs, and other miscellanies.
Meticulously handcrafted in San Francisco.
With its premium materials and uncluttered, modern design, the flexible Marqui Crossbody Pouch suits urban streets, the office, or international travel. The adjustable camlock can be tightened to keep the pouch flush against the body making it suitable for casual cycling, scootering, or jogging when keys, cash, and a few other essentials are handy to have along.
"Carrying the Marqui is like one of those things in life that you didn't know you needed until after you've used it, and then you wonder how you ever got by without it," said company owner Gary Waterfield. "It's easy to understand why this streetwear-style bag gone Haute Couture has become mainstream. It's just so comfortable, hip, and convenient."
The Marqui joins the WaterField collection of sophisticated bags and cases that include additional minimalist options like the Sutter Tech Sling, the Sutter Sling Pouch, and the Clyff, Minemo, and Victor wallets.
Availability & Pricing:
The Marqui Crossbody Pouch
Price: $79.
Colors and materials: Black ballistic nylon with full-grain leather panel in black, blue, chocolate, grey, or red. YKK zippers – one splash-proof and one self-locking.
Dimensions and weight: 8 x 5.5 x1.25 inches; 6.5 oz.
Pre-order now. Shipping begins September 6.
About WaterField Designs
WaterField Designs is an innovative San Francisco designer and manufacturer of bags and cases for tech-savvy consumers who want to transport their technology stylishly and responsibly. WaterField manufactures custom-fitted, high-quality cases and bags for a full-range of laptop computers, smartphones, tablets, gaming devices and other digital gear. All products are manufactured to exacting standards entirely in San Francisco. More information at "Our Story".