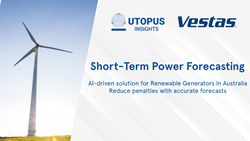 The improved efficiency of our assets produces savings for consumers and positions Infigen to invest in additional low-cost renewable generation. - Matt Dickie, General Manager, Operations, Infigen Energy
VALHALLA, N.Y. (PRWEB) September 29, 2020
Utopus Insights and its parent company, Vestas, have successfully used data from their five-minute self-forecasting pilot in Australia to produce customer cost-savings. Inaccurate supply forecasts, along with unreached output targets by renewable generators, can result in power system instability and higher operating costs, particularly in energy markets like that of Australia. As part of the Australian Renewable Energy Agency's (ARENA) Advancing Renewables Program, this 12-month pilot provided a solution to this industry shortfall.
Such data can be especially useful for Australian wind and solar farms which are penalised for failing to meet required output levels in the National Electricity Market (NEM). The pilot was trialed at Infigen Energy's Lake Bonney Wind Farm 2 and 3, a 198 MW project powered by Vestas in South Australia.
The data was used by the Australian Energy Market Operator (AEMO) for real-time dispatch decisions while also demonstrating increased accuracy when compared to the current Australian Wind Energy Forecasting System's (AWEFS) five-minute forecast.
"Thanks to Vestas and Utopus Insights' self-forecasting data, we expect we will achieve cost savings at Lake Bonney 2 and 3, assets with 198 MW of nameplate capacity," said Matt Dickie, General Manager, Operations, Infigen Energy. "We will therefore continue to utilise this energy data solution at Lake Bonney Wind Farm 2 and 3."
The solution applied advanced data science techniques to high-resolution wind turbine SCADA data, granular short-term hyperlocal weather forecasts, and meteorological data to deliver greater accuracy in energy forecasts.
Through the provision of such information, both AEMO and the market can expect a more accurate and transparent forecast of supply, system constraints and pricing. As a result, data like that of the trial can also provide increased grid stability.
"With a decrease in operating expenses coupled with a greater proportion of low-cost renewables in the energy mix, the wholesale cost of energy is expected to reduce, benefitting the Australian consumer," said Peter Cowling, Head of Vestas Australia and New Zealand. "Furthermore, as a result of the introduction of the Five-Minute Settlement rule in Australia's National Energy Market, the need for energy solutions like our accurate short-term forecasting will become more apparent."
"The convergence of renewable energy and machine learning has the potential to positively impact the world and radically alter the way we look at the energy sector in the future – where "smart" renewable energy is the most sustainable way forward," said Chandu Visweswariah, CEO, Utopus Insights.
"From an energy market standpoint, improved power output accuracies allow stakeholders to sharpen intra-day energy bid strategies, making renewable energy more reliable, and profitable," said Shekhar Kamath, General Manager, Sales, Utopus Insights.
"Self-forecasting allows renewable generators to take advantage of the wealth of operational data produced by our assets. This results not only in financial savings but also in improved dispatch for the broader market. The improved efficiency of our assets produces savings for consumers and positions Infigen to invest in additional low-cost renewable generation," Dickie of Infigen Energy added.
Learn more about the Utopus Insights Short-Term Power Forecasting Solution at http://www.utopusinsights.com/power-forecasting
Discover more about the benefits of the Vestas-Utopus Insights self-forecasting trial at https://arena.gov.au/projects/lake-bonney-stages-2-3/.
For Utopus Insights media inquiries, please contact:
Sonu Munshi
Director of Communications
sonu.munshi@utopusinsights.com
For Vestas media inquiries, please contact:
Kilani Fisher
Marketing & Communications ANZ
klafs@vestas.com
About Utopus Insights
Utopus Insights is a data-driven energy analytics Software as a Service (SaaS) company that develops global digital solutions to accelerate the integration of renewable energy into the modern grid. Headquartered in New York, with development centers and sales presence across North America, Europe and Asia, we seek to accelerate an era of reliable, clean and cost-effective energy worldwide. Utopus Insights is a wholly owned subsidiary of Vestas.
Learn more at http://www.utopusinsights.com and follow us on social media:
http://www.twitter.com/utopusinsights
http://www.linkedin.com/company/utopusinsights
http://www.facebook.com/utopusinsights
http://www.instagram.com/utopusinsights
About Vestas
Vestas is the energy industry's global partner on sustainable energy solutions. We design, manufacture, install, and service wind turbines across the globe, and with more than 115 GW of wind turbines in 81 countries, we have installed more wind power than anyone else. Through our industry-leading smart data capabilities and more than 98 GW of wind turbines under service, we use data to interpret, forecast, and exploit wind resources and deliver best-in-class wind power solutions. Together with our customers, Vestas' more than 25,000 employees are providing global sustainable energy solutions to power a bright future.
For updated Vestas photographs and videos, please visit our media images page on: https://www.vestas.com/en/media/images
We invite you to learn more about Vestas by visiting our website at http://www.vestas.com following us on our social media channels:
http://www.twitter.com/vestas
http://www.linkedin.com/company/vestas
http://www.facebook.com/vestas
http://www.instagram.com/vestas
http://www.youtube.com/vestas
About Infigen Energy
We provide Australian businesses with firm supplies of clean energy. By combining intermittent renewables with fast-start firming assets, we offer our customers reliable and competitively priced clean energy. Our fleet of renewable energy assets is among the largest in Australia. In addition to our owned assets, we contract the output from other renewable operators, enabling us to serve a growing number of customers. Our portfolio of fast-start firming assets enables us to manage the risks associated with the intermittency of renewable generators. https://www.infigenenergy.com/