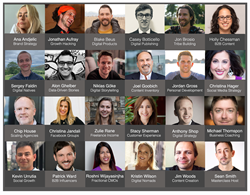 According to Smith, the pandemic is also accelerating the most remarkable content creation boom since the Renaissance.
WASHINGTON (PRWEB) December 29, 2020
Twenty-one leading online writers and digital innovators from ten countries will headline story2021.co, a free digital content masterclass for online writers, marketers, agencies, and entrepreneurs who want to grow their audience, voice, and revenue.
The new masterclass series will be hosted by veteran marketer Sean Smith, the creator of story2021.co and founder of Virtù b2b (V2b), an online marketing agency. Airing January 11-22, 2021, two new interviews will be released each weekday for free viewing during the series. Free online registration is now open.
"A seismic shift is happening online, and it's changing the way we consume digital content," Smith said. "And this masterclass series is designed to show individuals and businesses how to develop a robust online presence and discover the best ways to monetize their skills and experience in this new online era."
According to Smith, "it doesn't take an expert" to know that every form of digital content has exploded worldwide.
He noted the far-reaching implications social distancing is having on the way people interact with one another, permanently altering the nature of digital content.
"In 2020," Smith said, "almost the entire world moved online, creating new challenges, but also many opportunities." According to Smith, the pandemic is also accelerating the most remarkable content creation boom since the Renaissance.
"The billion-dollar question," he said, "is what does this burgeoning new class of content consumers want?"
These new content consumers, Smith said, "are hungry for more than just entertainment and social media distractions." What they are looking for is stories—stories that give them inspiration, understanding, and hope.
"Moreover," he said, "in these disorienting times, people are especially looking for direction and ideas, as well as new income streams."
Unlike many other online summits, according to Smith, story2021.co addresses various aspects of a broad and deep blue-ocean topic,
The Masterclass Series Speaks to Two Audiences
The first is writers and content creators, and the second is businesses of all sizes. In the masterclass series, the two audiences will benefit from the experience and skills of speakers drawn from both the writing and business communities.
Writers and content creators will learn more about the business of digital content and also how to monetize their skills in today's economy.
Businesses, including marketers, entrepreneurs, and agencies, will learn how to create digital content that drives business growth in the online era.
Accordingly, story2021.co features an impressive line-up of leading online writers with huge followings and an equal number of top digital business leaders, including innovative marketers, entrepreneurs, consultants, and agencies who are rewriting the rules of digital engagement from the business side.
In the more than 13-hours of expert interviews, front-line practitioners - all of whom are making money online - will explore the numerous trends, themes, and challenges of building and amplifying an online presence.
Get Real-life Inspiration from 21 Leading Innovators
Smith chose each story2021.co speaker because she or he has demonstrated an exceptional ability to change the narrative and reshape the rules of online engagement, all through the power of storytelling. They were selected from Medium, Substack, Indie-Hacker, Forbes, and many other mainstream publications.
"To a person, these speakers exemplify what Ana Andjelic, Ph.D. (one of the speakers), calls the four C's of brand strategy in the modern aspiration economy: community, content, curation, and collaborations," said Smith.
During the ten-day virtual program, these thought leaders will share their unique experience building their online followings, honing their messages, and delivering value in a way that sustains them financially and provides a manageable work/life balance.
Attend story2021.co for more than 13-hours of interviews with more than 21 inspiring digital innovators with a combined social media audience of more than 500k.
The impressive line-up of speakers from both the digital content industry's writing and business sides, addressing specific topics for marketing, entrepreneurs, freelancers, consultants, startups, and agencies. View the full speaker line-up and agenda here.
What You Will Learn
"Along with all the valuable insight, for me, the real value of this masterclass series," said Smith, "is the mental shift that came from speaking with more than 21 expert speakers, each with a different perspective and approach to the changing digital landscape."
Viewing of each interview will be free for 48-hours after its release. At any point, viewers may also opt to purchase an all-access pass for a nominal charge. However, Smith noted that scholarships are available by request for students and any individuals experiencing unemployment or financial distress.
"The world is changing as fast as we can write about it," said Smith, "So we must change with it." Anyone interested in seeing how this narrative unfolds can follow the hashtag #story2021.
About V2b
Virtù b2b (V2b) is a new online marketing agency working collaboratively with busy entrepreneurs and marketers to help them create refreshingly different digital content and tell stories that drive engagement and business growth.
Founded by Sean Smith, a former tech CMO and veteran B2B marketing executive, V2b is an entirely virtual company with a global network of associates and advisors. Sean is based in Rehoboth Beach DE, and also spends time in Washington DC, Philadelphia, and Italy.