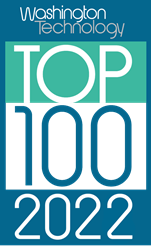 V3Gate named to Washington Technology's Top 100 list for second year in a row.
COLORADO SPRINGS, Colo. (PRWEB) June 23, 2022
V3Gate, a leading Service-Disabled Veteran Owned Small Business (SDVOSB) and Minority-owned Business Enterprise (MBE) that delivers technology products and services to the federal government, announced today that it ranked #72 on the 2022 Washington Technology's Top 100 list. This marks the second consecutive year V3Gate is included on the list.
The Washington Technology Top 100 ranks the largest government contractors in the federal market based on their prime contract obligations. The rankings are elicited from analysis of procurement data in the areas of IT, professional services, telecommunications, and other high-tech services areas.
"We are pleased to be recognized as a top government technology contractor in the DC area for the second year in a row", said Oscar Valdez, V3Gate CEO, "Our focus is always on building trusted relationships with our clients, and we are honored to provide IT solutions across a variety of agencies and bureaus in the federal government."
The full list is available on the Washington Technology website: 2022 Top 100 - Washington Technology
About V3Gate 
Founded in 2007, V3Gate is a Service-Disabled Veteran-Owned Small Business (SDVOSB), specializing in emerging technologies that help our clients simplify their infrastructures, reduce costs, and create more agile IT environments. V3Gate is ISO 9001:2015 and ISO/EIC 20243:2015 certified. For more information, please visit: https://www.v3gate.com