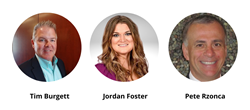 COLORADO SPRINGS, Colo. (PRWEB) February 11, 2020
V3Gate, a Service-Disabled Veteran-Owned Small Business (SDVOSB) specializing in IT solutions, today announced three senior additions to its staff:
Pete Rzonca has been named General Manager of V3Gate's State and Local Government & Education (SLED) practice and a member of V3Gate's leadership committee. Rzonca's immediate focus will include IT business development in key states including New York, Texas, California, and Colorado. In his previous roles, Rzonca led the Public Sector practices at both Insight and TechData, two Fortune 500 providers of IT solutions.
Tim Burgett will serve as General Manager and Chief Operating Officer of V3GO, V3Gate's sub-brand launched in 2019. V3GO specializes in office solutions, office furniture, janitorial and sanitary products and managed print solutions across all customer segments. Prior to V3GO, Burgett was Vice President of Independent Channels at Essendant, the leading wholesale distributor of office solutions.
Jordan Foster has been named Marketing Director, and will oversee V3Gate's branding, communications, and lead generation activities across all lines of business. Foster was previously Senior Manager of Marketing & Engagement at National Contract Management Association, the nation's leading professional development resource for contracting professionals.
"I am proud to welcome Pete, Tim, and Jordan to our team," said V3Gate CEO and COO, Oscar Valdez, Jr. "Each brings critical expertise and perspective that will ensure V3Gate's continued success and impact as we deliver the new era of IT."
Founded in 2007, V3Gate closed 2019 with a nearly 41% increase in revenue from the previous year. The company was named to Inc. Magazine's list of 5,000 fastest growing U.S. private companies from 2016-2019, and was also recognized on the magazine's joint list with the Institute for Veterans & Military Families (Vet50) as one of the 50 fastest growing veteran-owned small businesses in the nation in 2018 and 2019.
ABOUT V3GATE
V3Gate is a recognized IT solutions provider for the US federal, state, and local governments. A service-disabled veteran-owned small business (SDVOSB), V3Gate specializes in emerging technologies that help clients simplify their infrastructures, reduce costs, and create more agile IT environments.
V3Gate is a leading contract holder on NASA SEWP V and DHS FirstSource II and is ISO 9001:2015 and ISO/EIC 20243:2015 certified.