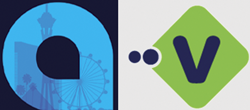 Visit V-Technologies, LLC in booth #27 at the Acumatica Summit to learn how to combine parcel, freight and LTL carriers in one user interface with integration to accounts receivable and customer service for improved productivity and cost savings." – Caroline Rua, VP of Sales and Marketing
CHESHIRE, Conn. (PRWEB) December 17, 2019
Leading integrated Acumatica shipping software provider, V-Technologies, LLC announces Acumatica Summit 2020 Gold Sponsorship in Las Vegas, NV January 26 - January 31, 2020.
V-Technologies, LLC is exhibiting in booth #27 at the Acumatica Summit 2020. The Acumatica Summit is a great opportunity to network with Acumatica consultants and learn about the latest release of Acumatica and the tools to enhance Acumatica. Meet with V-Technologies, LLC to learn how StarShip shipping software for Acumatica combines parcel and freight carriers into one user interface. The bi-directional interface streamlines the entire workflow to gain immediate efficiencies in shipment processing, accounts receivable and customer service.
"We're proud to recognize StarShip as an Acumatica-Certified Application. It masterfully utilizes the Acumatica platform to meet customers' growing shipment automation demands," said Christian Lindberg, Vice President of Partner Solutions at Acumatica.
Here are a few highlights:
StarShip:
USPS discounted rates
USPS consolidators (UPS Mail Innovations, DHL Global Mail, APC, etc.)
USPS Pay-On-Use Returns
Acumatica integration
Ecommerce integration (direct or as an extension to Acumatica)
Rate shop across parcel and LTL carriers from one place
Stop by V-Technologies, LLC booth #27 and get a free passport card. Visit all 10 participating booths on the passport and get a stamp at each location to qualify for a chance to win $1,000 or more.
About V-Technologies, LLC:
Founded in 1987, V-Technologies is a shipping software development company that offers a selection of solutions to meet the growing demand for integrated shipping. StarShip and ShipGear are the two flagship shipping software products. V-Technologies develop interfaces with Sage Software's Sage 100 (formerly MAS 90 and MAS 200), Sage 500, Sage 50, Microsoft Dynamics GP, Acumatica, Macola, QuickBooks, Fishbowl, Acctivate, Amazon and eBay.
V-Technologies has partnerships with other supply chain management solutions such as EDI integration with MAPADOC and SPS Commerce along with popular barcoding solutions such as Scanco, ScanForce and Panatrack. Additional information about V-Technologies and its solutions is available at http://www.vtechnologies.com.
About Acumatica
Acumatica provides cloud-based business management software that enables small and mid-size companies to accelerate their businesses. Built on cloud and mobile technology and a unique customer-centric licensing model, Acumatica delivers a suite of fully integrated business management applications, such as Financials, Distribution, CRM, and Project Accounting, on a robust and flexible platform. For more information, visit acumatica.com.