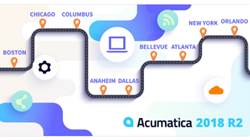 The Acumatica Certified Application (ACA) label insures an application has met the stringent requirements of the Acumatica framework," said Christian Lindberg, Vice President of Partner Solutions at Acumatica.
CHESHIRE, Ct. (PRWEB) September 18, 2018
V-Technologies, developers of StarShip shipping software for Acumatica, announces exhibitor sponsorship at the 2018 R2 Acumatica Road Show in Atlanta and NY. V-Technologies will also be at Boston, Chicago and Orlando to answer any questions regarding StarShip's Acumatica shipping software integration. The roadshows are a great opportunity for customers and consultants to network with solution providers to learn about the latest release and get the insight you need to fully utilize Acumatica R2.
Stop by the V-Technologies, LLC booth to learn how StarShip shipping software for Acumatica combines parcel and freight carriers into one user interface. The bi-directional interface streamlines the entire workflow to gain immediate efficiencies in shipment processing, accounts receivable and customer service. We can create custom emails and labels to strengthen your brand and drive repeat business.
See StarShip by V-Technologies, LLC at the following 2018 Acumatica Road Shows:
Boston, MA (9/12/18)
Chicago, IL (10/2/18)
Atlanta, GA (10/11/18)
New York, NY (10/16/18)
Orlando, FL (10/18/18)
StarShip's integration is an Acumatica-Certified Application (ACA). This title represents a select group of development partners whose applications have met the highest standards set for Acumatica integration and functionality. Acumatica is a comprehensive, browser-based Cloud ERP solution optimized for ease of use, adaptability, mobility, speed, and security.
"The Acumatica Certified Application (ACA) label insures an application has met the stringent requirements of the Acumatica framework," said Christian Lindberg, Vice President of Partner Solutions at Acumatica. "This helps companies stay competitive and deliver on their customer requirements. We're proud to recognize StarShip as an Acumatica-Certified Application."
Visit V-Technologies, LLC at the Acumatica Road Shows to learn how Acumatica customers streamline shipping operations with efficient shipping processing, integration to accounts receivable and customer service for improved productivity and cost savings." – Caroline Rua
About V-Technologies, LLC:
Founded in 1987, we offer integrated multi-carrier shipping software that connects the warehouse to the front office. We partner with dozens of parcel and LTL carriers such as USPS, UPS, FedEx, R+L, Spee-Dee, YRC and more as well as regional carriers like OnTrac. Our software provides integration between those carriers and popular ERP, EDI, accounting and ecommerce platforms such as Amazon, eBay, Shopify, and WooCommerce to name a few. Contact us today for more information: 800-462-4016 email: sales@vtechnologies.com
About Acumatica
Acumatica provides cloud-based business management software that empowers small and mid-size businesses to accelerate their businesses and drive growth. Built on cloud and mobile technology and a unique customer-centric licensing model, Acumatica delivers a suite of fully integrated business management applications, such as Financials, Distribution, CRM and Project Accounting, on a robust and flexible platform. In an interconnected world, Acumatica enables customers to take full control of their businesses, play to their organizations' unique strengths and support their clients by following them anywhere on any device. For more information, visit acumatica.com