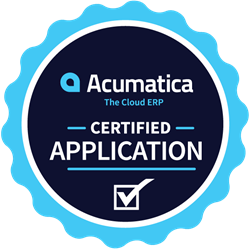 "We're proud to recognize StarShip as an Acumatica-Certified Application. It masterfully utilizes the Acumatica platform to meet customers' growing shipment automation demands," said Christian Lindberg, Vice President of Partner Solutions at Acumatica.
CHESHIRE, Conn. (PRWEB) February 04, 2020
V-Technologies, a leading provider of integrated Acumatica shipping software, today announces its status as an Acumatica-Certified Application (ACA). V-Technologies' StarShip multi-carrier shipping application seamlessly integrates to Acumatica resulting in streamlined shipping and accounts receivable operations, lower costs, higher productivity and overall efficiency. The latest Acumatica shipping software interface has been enhanced to offer rate quote across carriers and modes direct from sales order entry as well as capturing item to package detail defined on the Acumatica shipment.
To become an Acumatica-Certified Application, V-Technologies has demonstrated commitment to quality by passing the Acumatica software test and aligning to future Acumatica releases. V-Technologies has been an Acumatica partner since 2016.
About V-Technologies, LLC:
V-Technologies, LLC was founded in 1987 and provides integrated multi-carrier shipping software that connects your warehouse to the front office. They partner with dozens of parcel and LTL carriers such as DHL, FedEx, Holland, USPS, UPS, YRC as well as regional carriers like OnTrac and Pitt Ohio. Providing the integration between those carriers and popular ERP, EDI, accounting and ecommerce platforms such as Amazon, Acumatica, eBay, Magento, Microsoft Dynamics GP, Sage, SAP Business One, Shopify and QuickBooks.
About Acumatica
Acumatica provides cloud-based business management software that enables small and mid-size companies to accelerate their businesses. Built on cloud and mobile technology and a unique customer-centric licensing model, Acumatica delivers a suite of fully integrated business management applications, such as Financials, Distribution, CRM, and Project Accounting, on a robust and flexible platform. For more information, visit http://www.acumatica.com.