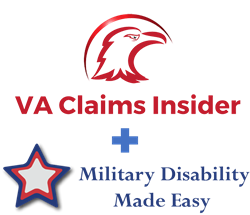 "VA Claims Insider's sole focus is on becoming The Most Trusted Name in VA Disability Claims." - Brian Reese
AUSTIN, Texas (PRWEB) March 22, 2019
Bringing Military Disability Made Easy into the fold will enable VA Claims Insider to reach more than 200K unique visitors each month, almost all of which are transitioning military members and veterans with service-connected disabilities.
Connecting veterans with the right resource at the exact moment they need it remains one of the biggest challenges in today's online market, and as the veteran space gets more crowded, it's becoming more difficult to stand out with organic search traffic.
And yet, Military Disability Made Easy continues to dominate this space by simplifying, categorizing, and syndicating the entire VA Schedule for Rating Disabilities (VASRD), the complete DoD disability process, and the full VA disability process into high-value original content in the world's largest free searchable database for all things related to veterans' disability.
With more than 830 ratable disabilities and the lengthy and confusing law that governs them, it's a daunting task for transitioning military members and veterans to understand the military disability systems and to ensure that they are receiving the disability benefits they deserve.
This is precisely why 8/10 veterans are currently underrated—meaning they do not have the VA disability rating and compensation they deserve. When a veteran gets a lower VA rating then they should have, or worse, get denied, they end up lacking the financial assistance, medical benefits, and educational help they need to reintegrate back into society.
Back in 2016, however, VA Claims Insider cracked the code of "why" VA disability claims get denied: (1) Not enough medical evidence, and (2) No clear NEXUS, a.k.a., the link to a veteran's military service needed to prove service-connection.
Yet, even if a veteran is stuck, frustrated, underrated, or previously denied VA disability benefits in the past, there is still hope. VA Claims Insider connects veterans with their network of qualified medical professionals in order to provide them with additional medical evidence, Disability Benefit Questionnaire (DBQ) reviews, and/or credible medical NEXUS opinions. This matchmaking results in veterans being able to win their VA disability claim or appeals, get conditions service-connected, and obtain the VA disability rating and compensation they deserve in less time.
Brian Reese, Air Force service-disabled veteran and Founder & CEO of VA Claims Insider, sees the acquisition of Military Disability Made Easy as a monumental step toward getting all veterans what they legally, morally, ethically, and medically deserve by connecting veterans with the right VA disability claims experts and qualified medical professionals, at the very moment they search for it online.
"VA Claims Insider's sole focus is on becoming The Most Trusted Name in VA Disability Claims. While Military Disability Made Easy's information has and will continue to empower many veterans, the amount of information can be overwhelming to many. By joining forces, we can now help veterans combine the right information with a personalized VA disability claim strategy and a team of fellow disabled veterans and medical professionals leading veterans through all the red-tape, now that's powerful," said Reese.
Dr. George Johnson emphasized this sentiment by saying: "Military Disability Made Easy is proud to have served our service members and veterans for over six years, empowering millions of veterans to take control of their disability and receive the benefits they deserve. We are excited to join forces with VA Claims Insider to further expand our offerings and provide veterans with more comprehensive and hands-on services. Our hope is that this unity will enable us to help even more veterans on their road to a secure future."
VA Claims Insider, which launched in 2016, has served more than 250,000 veterans to date with free eBooks, video trainings and tutorials, and original blog content, and currently has more than 5,000 veterans in its membership programs. The company is rapidly expanding its team and operations to serve even more veterans.
Military Disability Made Easy was founded in 2013 by retired Air Force Colonel, Dr. George Johnson, and VA Disability Specialist, Rebecca Sara. It is currently the world's largest free searchable database for all things related to DoD disability and VA disability claims and has served more than 3.6M unique users since its founding. The company's employees have already joined VA Claims Insider.