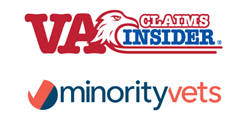 AUSTIN, Texas (PRWEB) October 07, 2020
VA Claims Insider (VACI) CEO Brian Reese and Minority Vets of America (MVA) CEO Lindsay Church today announced collaboration on a program to serve veterans facing financial hardship during the COVID-19 pandemic. VA Claims Insider contributed $25,000 to the MVA COVID-19 Relief Fund and joins the ranks of the Seattle Seahawks and Seattle Foundation in support of this program.
"On a good day, our country's disabled and minority veterans are disproportionately affected by everything from housing and food insecurity to mental health crises," said Reese, an Air Force service-disabled veteran who deployed to Afghanistan in support of Operation Enduring Freedom. "The pandemic has only heightened those challenges. It's also heightened the needs. When we saw the action and the passion behind the Minority Vets mission, we wanted to help them continue their good work."
"We are grateful for the continued support from organizations like VA Claims Insider," said Church, a veteran of the U.S. Navy. "The number of vets applying for assistance in recent months has outpaced even our greatest expectations. Thanks to VACI's contribution, veterans and their families experiencing financial hardship due to the pandemic will now have more access to direct financial assistance."
To date, the MVA Covid-19 Relief Fund has seen more than 680 applicants across the nation. Through the fund, minority veterans and their families receive direct financial assistance for food and transportation.
More information on MVA's COVID-19 Relief Fund, virtual events and resources is available here.
About Minority Vets of America
Minority Vets of America is a non-partisan, non-profit organization that was designed to create belonging and advance equity for underrepresented veterans, including women, people of color, LGBTQ, and religious minorities. The organization aims to transform the narrative of the American veteran by building an interconnected community, fostering greater understanding of our memberships' identities, and serving minority veterans through the development of targeted programming and advocacy.
About VA Claims Insider
VA Claims Insider is headquartered in Austin, TX and is an education-based coaching/consulting company for disabled veterans who are exploring eligibility for increased VA disability benefits and who wish to learn more about that process. VA Claims Insider also connects veterans with vetted independent medical professionals in an independent referral network for medical examinations, disability evaluations and credible medical nexus letters for a wide range of disability conditions. VACI serves more than 300,000 unique veterans a month across its websites and membership programs between Military Disability Made Easy and VA Claims Insider. VA Claims Insider, LLC is not an accredited agent, VSO, attorney, or entity recognized by the Department of Veterans Affairs (VA) and is not affiliated with the VA in any way. VA Claims Insider, LLC does not assist veterans with the preparation, presentation, and prosecution of VA disability claims for VA benefits. Veterans shall prepare and file their own claim or work with an accredited representative, many of which offer services for free.
media@vaclaimsinsider.com
737-214-2140