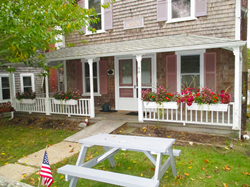 We want to get back to work and see happy guests enjoying their time here!
CENTERVILLE, Mass. (PRWEB) July 07, 2020
Craigville Retreat Center on Cape Cod in Centerville, Massachusetts, announced its re-opening to small family groups looking for self-contained vacation options during the pandemic. With eight lodging options currently available for vacationers to utilize, the retreat center can accommodate small groups (1-15 people) looking to getaway.
With new re-opening protocols in place, the staff onsite is able to offer extra safe and sanitized lodging in the 5 cottages and 3 apartments. The cottages each hold between eight to fifteen guests while the apartments can lodge two to three people each.
The Shelter-in-Place order has been challenging and many people are looking for a self-contained vacation option. Craigville Retreat Center is happy to offer a solution to those looking to reconnect to nature in a home away from home. As a nonprofit, options are charming and reasonably priced. Each cottage and apartment has its own kitchen or kitchenette for guests to do their own cooking as meal service is currently on hold.
Site Director Matthew CastleMan says, "We want to get back to work and see happy guests enjoying their time here. We are grateful to have started re-opening. When we are fully open, we will be inviting nonprofit groups that are looking for event space such as the Craigville Inn, Lodge, and Manor which house much larger groups."
Craigville Retreat Center overlooks the salt marsh of Nantucket Sound and the Red Lily Pond. It is located in the small village of Craigville in Centerville on Cape Cod. This historic retreat offers wildlife viewing and local beaches.
For those looking for more information about booking a vacation in one of the cottages or apartments contact:
UCCR
800-678-510
http://www.uccr.org/craigville
reservations@uccr.org