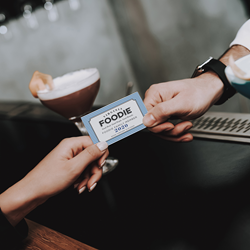 If our farmers are going to break from mass-market crops and rebuild the soil, there needs to be a thriving local food economy. – Georgiana Dearing
WINCHESTER, Va. (PRWEB) November 14, 2019
Virginia Foodie, the state's most recognized digital food brand, announces the launch of the new Foodie Family membership program. Fans of Virginia Foodie's popular blog and Instagram feed can now purchase an annual membership in the Foodie Family to receive discounts an insider deals from Virginia's best locally-sourced food brands and restaurants.
Virginia Foodie is a digital publication committed to finding and sharing food businesses that use local sourcing, drawing on the Commonwealth's great agricultural resources. The website, vafoodie.com, houses four lists of businesses that meet the standards of Virginia Foodie's mission of "Good Food, Good People, Good Brands." The EAT list features makers and manufacturers of packaged foods, the DRINK list consists of Virginia-based beverage manufacturers, the DINE list highlights restaurants and food trucks that commit to local sourcing, and the GROW list takes shoppers right to the source, sharing farmer's markets and CSAs.
"Our new Foodie Family is a great way for our fans to support our mission and help us keep doing the work we've been doing in a sustainable way," says Georgiana Dearing, founder of the brand. "We've been talking about local food for years, and we've been sending fans to food establishments across the state the whole time. The annual membership fee helps us defray costs, and many of our Foodie Family Partners have joined in to help give something back to our loyal fans."
The vafoodie.com website went up in October of 2015. The brand's Instagram account, @vafoodie, hit 30,000 followers in just 15 months. Now topping 46,000 fans on Instagram, and another 10,000 in other media, Virginia Foodie is recognized by most restaurants and food manufacturers in Virginia. The site publishes about four articles a month that are focused on food and food events in and around Virginia.
"We came of age alongside the influencer marketing bubble. Many people think we are restaurant reviewers, but we're not critics. We are marketers at heart, and we genuinely believe in our local community of makers, growers, and artisans. If our farmers are going to break from mass-market crops and rebuild the soil, there needs to be a thriving local food economy. People like Joel Salatin of Polyface Farm and the Trainum family of Autumn Olive Farms have started a movement, and we're here to help it along," asserts Ms. Dearing.
"It takes a lot of energy to run a small business," she continued. "I looked at what was going on, all these little guys trying to build a following, and thought I could help. I thought, 'I can build an audience.' So that's what we did."
During a soft launch in mid-October about 20 partner businesses immediately signed on as Foodie Family Partners and new partners are joining every day. In addition to receiving discounts on Virginia Foodie branded merchandise, members will see benefits ranging anywhere from a 5% discount to a secret Foodie Family menu item accessed by flashing the distinctive striped membership card.
Membership costs $30 for a full year. Cards purchased now do not expire until December 31, 2020. For those hesitant to make a yearly commitment, quarterly memberships are slated to roll out in early 2020 and are expected to run $12 per quarter. Virginia Foodie Family memberships can be purchased here. Any local food businesses that are interested in participating can submit an application here.
About Virginia Foodie
Virginia Foodie is a digital publication committed to celebrating the good food, good people, and good brands in and around Virginia. We're on a mission to connect people who care about local food with the growers, bakers, servers, and makers who are committed to sustainable local sourcing.