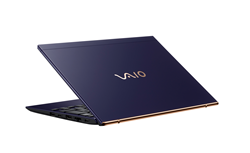 GARDENA, Calif. (PRWEB) October 27, 2021
A Best in Class is About to Get Classier
With the US launch of the new VAIO® SX12 and SX14 on October 27th, VAIO's innovative technology is placing it squarely at the forefront of premium PCs.
VAIO offers the best-in-class laptops among top performing PCs with innovative technology and intelligent features to provide an exceptional computing experience that allows the user the freedom to work, create and connect anywhere, anytime, especially useful in the new age of mobile computing.
True to VAIO's relentless spirit of innovation, the premium PC company harnessed the brain trust of their talented engineers in their state-of-the-art facilities in Nagano, Japan and gave them the freedom to imagine, "what if?"
Their innovative thinking resulted in the evolution of VAIO SX12 and SX14.
To start, VAIO's groundbreaking carbon fiber molding process has allowed them to engineer their new models with durability and lightweight portability.
Additionally, the new model is engineered with many thoughtful features that give the user an exceptional computing experience, like:

VAIO® User Sensing technology with double biometrics for face and fingerprint recognition to ensure safety and convenience. Furthermore, VAIO ingenuity continues to impress in the fingerprint feature that is integrated into the power button. Simply tap the power button a second time after startup for fingerprint authentication – and without entering a password. How convenient is that?
An ergonomic keyboard with motion comfort so fine, it feels like a natural extension of your hand –a quiet one
Another VAIO first, is AI noise canceling technology built right in. This AI technology knows to only remove environmental sounds such as indoor or outdoor background noise for a richer listening experience during remote communications.
Speaking of sound, the new VAIO SX12 and SX14 offers an enhanced microphone, a DOLBY Atmos ® uniquely optimized by VAIO, and a large-aperture stereo speaker located on the front of the main unit, so your voice is clearly heard without sounding distant or the need to speak up. Raise your hand if this sounds great!
Another convenient feature comes in the form of a frequently used port interface, PLUS two USB Type-C ™ ports, an HDMI port, and a wired LAN port. That should be more than enough to keep all your tools connected in one place.
Of course, the new VAIO SX12 and SX14 still packs powerful performance in a lightweight laptop:

Up to 15.5 hours of continuous video playback. The newly developed high-capacity battery and low-power display panel provided should reassure the user their SX will continue to perform for many hours untethered.
11th Generation Intel ® Core™ processors with significantly improved graphics performance.
4th Generation High Speed SSD for dramatically improved processing speeds
Includes ready to use Windows 11 OS
SX14's ample 14.0 screen opens up to 180 degrees that offers an intuitive touch panel display with the touch of a finger or optional screen stylus
Crystal clear Intel® Iris® Xe Graphics in both the SX12 and SX14's, high-def LCD panel
The new model offers all these smart upgrades in one lightweight yet durable laptop on top of a new array of stylish colors in one beautiful design. New colors sure to please many tastes include:

Rose Gold (exclusive to the SX12 model)
Urban Bronze
Fine White
Bright Silver
All Black
However, there is a special color that is sure to appeal to gamers or anyone who appreciates the classic elegance of a dark blue, or Kachi-iro. It's a stately navy blue with stylish accents of gold. The color is richly saturated with depth making this a very handsome addition to the color lineup yet the Kachi-iro color is limited in quantities and will no doubt become a very sought-after model.
The new VAIO SX12 and SX14 are the latest examples of VAIO's relentless spirit of innovation, keeping it at the forefront of technical ingenuity like carbon fiber for unmatched lightweight portability plus state-of-the-art engineering and elegant design that comes in a new range of cool colors.
Pricing for the VAIO SX12 and SX14 starts at $1,249
The new SX series is sold directly through https://us.vaio.com/.
About VAIO
VAIO's HQ and factory are in Azumino, Nagano Prefecture, Japan, surrounded by beautiful forest and mountains known as the Japanese Alps. VAIO SX12 and SX14 innovations were born here, and all VAIO products are shipped directly to the world from here. VAIO will continue to strive in delivering cutting-edge computing experiences, so that, "Made by VAIO in Azumino, Nagano, Japan" is equated with innovation."
VAIO Corporation, which inherited the VAIO PC business from Sony Corporation, was established on July 1, 2014, headquartered in Azumino, Nagano Prefecture, Japan. VAIO Corporation is dedicated to planning, design, development, manufacturing and sale of PCs and related products labeled with the VAIO trademark.