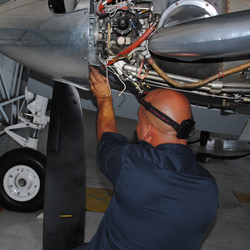 "Our team of qualified technicians perform MRO services for private, commercial and government customers around the world and with this new designation, also service hundreds of EU-registered aircraft."
OKLAHOMA CITY (PRWEB) October 14, 2019
Valair Aviation, a full-service MRO and FBO facility located at Wiley Post Airport, announces that it has earned European Aviation Safety Agency (EASA) Part 145 certification. EASA is an agency of the European Union with responsibility for civil aviation safety. It carries out certification, regulation, and standardization, and also performs investigation and monitoring.
"Valair is proud to be EASA certified and provide services to all of our customers, regardless of location," stated Mike Bowen, Vice President of Operations at Valair Aviation. "Our team of qualified technicians perform MRO services for private, commercial and government customers around the world and with this new designation, also service hundreds of EU-registered aircraft."
"We are strategically looking to the future and making strides within the current state of the industry," added Bowen. "Through our London-based equity partner, Meta Aerospace Capital, we have a direct connection to European customers thus contributing to our maintenance service growth."
Valair has been an FAA Part 145 certified repair station since 1998. It is an MRO solutions provider for legacy aircraft including Beechcraft Airliner 1900s, Beechjet, Hawker, King Air; Bombardier Dash 8; Cessna Citation, Conquest, Caravan; Piper Meridian; Gulfstream G100; Westwind and Aero Commanders.
About Valair Aviation
Valair Aviation is a full-service MRO and FBO providing quality, efficiency, and added value support. With over 70 years of experience, Valair has delivered customized solutions to private, commercial and government customers operating turbine and mid-size corporate jets. Valair has earned a highly respected reputation for its innovative engineering and performance enhancement solutions. In addition to maintenance, repair and overhauls, Valair also specializes in performance and surveillance upgrades, complete interior refurbishing, floor plan modifications, and customized paint. Valair Aviation is a Meta Special Aerospace company. Learn more at http://www.valairaviation.com.
About Meta Special Aerospace
Meta Special Aerospace (MSA) is a fully integrated and agile enterprise of aerospace and defense companies. MSA responds quickly and efficiently to government and commercial operators of mission-optimized aircraft with specialized aircraft performance enhancing products and contracted defense special mission services. MSA offers key services within its core operating markets of Manned Airborne ISR, Special Mission Training and Exercise Support, and Aviation Services. The MSA portfolio of companies includes Commuter Air Technology, Valair Aviation, Mission Transportation and Alpha28. Learn more at http://www.metaspecialaerospace.com.