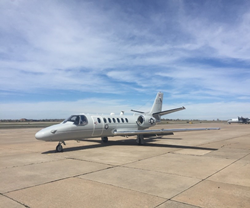 "Valair is pleased to have had the opportunity to perform this work for DI. Our team of MRO experts completed the work on time, within budget, and had their plane ready and waiting on the ramp for our customer's arrival. We look forward to supporting DI's future aircraft needs."
OKLAHOMA CITY (PRWEB) April 15, 2020
The Cessna Citation V (Model 560) is a business jet built by Cessna, stretched from the Citation II. The UC-35 is a medium range high priority passenger and cargo jet aircraft. Since its introduction, the Citation V has been the world's fastest-selling business jet. The aircraft has a range of 1500 to 1800 nautical miles, a cruise speed of 330 to 450 knots true airspeed, a service ceiling of FL450, and a gross weight of 16,300 pounds. The UC-35 can carry up to eight passengers.
"Valair is pleased to have had the opportunity to perform this work for DI. Our team of MRO experts completed the work on time, within budget, and had their plane ready and waiting on the ramp for our customer's arrival. We look forward to supporting DI's future aircraft needs," says Dave Chapman, Valair Aviation's MRO Sales Manager.
About Valair Aviation
Valair Aviation is a full-service MRO and FBO providing quality, efficiency, and added value support. With over 70 years of experience, Valair has delivered customized solutions to private, commercial and government customers operating turbine and mid-size corporate jets. Valair has earned a highly respected reputation for its innovative engineering and performance enhancement solutions. In addition to maintenance, repair and overhauls, Valair also specializes in performance and surveillance upgrades, complete interior refurbishing, floor plan modifications, and customized paint. Valair Aviation is a Meta Special Aerospace company. Learn more at http://www.valairaviation.com.