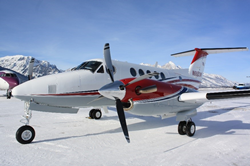 "The creativity and thought behind the design scheme of this paint project is evident in the final product. It highlights the ingenuity and artistic look the owners envisioned."
OKLAHOMA CITY (PRWEB) January 10, 2020
Valair Aviation, a Meta Special Aerospace (MSA) company, recently completed a striking paint job for our customer, BlackAir.
Valair's team of experts brought to life our customers creative design ideas with a modern and sleek paint scheme. Consisting of a Matterhorn White and Aviation Gray split base, trimmed in Atomic Red and Aristo Blue, the design finishes with a proudly displayed American flag on the rudder.
The flight department manager and chief pilot for BlackAir, Craig Sonderson, was very impressed with the final product. "The creativity and thought behind the design scheme of this paint project is evident in the final product. It highlights the ingenuity and artistic look the owners envisioned." Sonderson has accumulated over 10,000 hours of flight time piloting this aircraft since it was purchased 24 years ago. The plane is owned by five partners and based in Jackson Hole, Wyoming. However, one of the owners is an Oklahoman, so Oklahoma City has been a steady destination over the years.
About Valair Aviation
Valair Aviation is a full-service MRO and FBO providing quality, efficiency, and added value support. With over 70 years of experience, Valair has delivered customized solutions to private, commercial and government customers operating turbine and mid-size corporate jets. Valair has earned a highly respected reputation for its innovative engineering and performance enhancement solutions. In addition to maintenance, repair and overhauls, Valair also specializes in performance and surveillance upgrades, complete interior refurbishing, floor plan modifications, and customized paint. Valair Aviation is a Meta Special Aerospace company. Learn more at http://www.valairaviation.com.
About Meta Special Aerospace
Meta Special Aerospace (MSA) is a fully integrated and agile enterprise of aerospace and defense companies. MSA responds quickly and efficiently to government and commercial operators of mission-optimized aircraft with specialized aircraft performance enhancing products and contracted defense special mission services. MSA offers key services within its core operating markets of Manned Airborne ISR, Special Mission Training and Exercise Support, and Aviation Services. The MSA portfolio of companies includes Commuter Air Technology, Valair Aviation, Mission Transportation and Alpha28. Learn more at http://www.metaspecialaerospace.com.