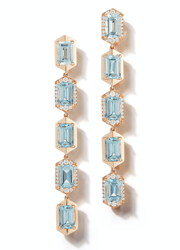 I chose to work with rose gold for this next series of pieces because it is feminine, warm and versatile.
NEW YORK (PRWEB) October 16, 2018
Valani Atelier is known for perfecting minimalist, modern luxury in fine jewelry design. This winter, the company adds fifteen rose gold styles throughout existing collections. From stunning new aquamarine, pink sapphire, and knife edge bridal designs to high design ear cuffs with fine ruby gemstones, Valani Atelier's rose gold look is refined and distinguishable, for those carving out a signature style with unique accessories.
Heena Shah, Co-Founder and Designer of Valani Atelier says, "I chose to work with rose gold for this next series of pieces because it is feminine, warm and versatile. Strong silhouettes in rose gold with rubies, diamonds, and aquamarine are unconventional combinations that surprisingly complement each other very well, adding a chic update to your modern wardrobe."
For brides looking for "something blue," new aquamarine dangle earrings sweep the neck with soft, seafoam luxury down the aisle. For multiple piercings, complement with rose gold kite-shaped diamond vohk earrings or rival diamond ear cuffs. For an alternative engagement ring set, the knife-edge pink sapphire ring and knife edge baguette diamond ring work together for a high-fashion, show-stopping look. In addition, the aquamarine statement ring adds the perfect pop of color to any reception or gala, featuring a 16.94 emerald cut gemstone.
For the office, a pop of confident red shows style subtlety in Vi II and Rival ruby ear cuffs. Fitting all sizes, and easily adjustable on the ear lobe, Valani Atelier ear cuffs are practical for the desk, while drawing attention from across the room. New Vi diamond ear huggers can be worn alongside multiple piercings or solo, as well as Vi II and Rival diamond ear cuff designs, for adaptable fashion.
For more information about Valani Atelier, visit http://www.valani.com, call 212-702-9703, or contact Valani Atelier through their contact page. For questions regarding this release, contact Olga Gonzalez at info(at)pietrapr(dot)com or call 212-913-9761.
ABOUT HEENA CHHEDA SHAH
Valani Atelier Co-Founder and Creative Director Heena Chheda Shah is the youngest jewelry designer to have won prestigious AGTA Spectrum, Platinum Guild, and Women's Jewelry Association Awards three years in a row. She has trained at the Gemological Institute of America and has a background in industrial engineering, having worked at Michelin in Lyon, France, Google in San Francisco, and as a consultant in New York City.
ABOUT VALANI ATELIER
Based in New York, Valani Atelier sells 18 Karat gold jewelry set with rubies, emeralds, sapphires, and pearls sourced directly from mining centers in Brazil, Colombia, Zambia, Mozambique, and Japan. Following the traditions of craftsmanship perfected by generations of Italian goldsmiths, the results are masterfully executed pieces that combine a heritage of artistry and striking design.