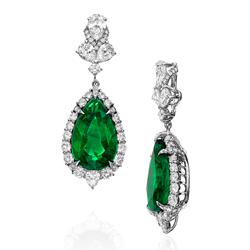 For the mother who is the leader of the pack, uninterested in commercial fashion imagery, fed up with being force-fed traditional beauty standards, the gift of an emerald piece is a distinctive and thoughtful choice.
NEW YORK (PRWEB) April 30, 2019
A source of fascination and reverence, the green in emerald delights designers and wearers alike. Its bright vitreous luster and eye-catching color universally flatters, and it is recognized as the ravishing birthstone for May. This upcoming Mother's Day, Valani Atelier has created seven high jewels in honor of mothers. Face-framing earrings, elegant cocktail rings, and pendants that sweep the collarbone are the collection's signature, each a unique and timeless modern heirloom.
With emerald being the cornerstone of Valani's seventy-year legacy, the family sources and sets exceptionally high-quality stones from the Muzo, Chivor, and Coscuez Mines in Colombia, and the Kagem Mine in Zambia. Bright, beautifully faceted, and ideally saturated with the perfect balance of bright emerald green, each Valani Atelier stone is hand-selected to represent the highest quality gem material from the source, exhibiting exceptional lapidary cuts from renowned craftsmen from Brazil to New York.
For over six thousand years emeralds have enchanted, from Incans and Ancient Egyptians, through today. Heena Shah, Creative Director for Valani Atelier, says of the collection, "I believe vivid green emerald jewelry expresses the individuality of the women wearing them. For the mother who is the leader of the pack, uninterested in commercial fashion imagery, fed up with being force-fed traditional beauty standards, the gift of an emerald piece is a distinctive and thoughtful choice."
Reimagining the elegance of stud earrings, Shah has turned them into attention-grabbing statements in their own right with the Hailey Emerald Earrings and the Phoenix Emerald Set. The Hailey earrings feature large cushion cut center stones, surrounded by a dance of diamonds in mixed shapes, adding texture to the design. The Phoenix Emerald Set has stunning drop-shaped emeralds, accented by diamond feathers, reminiscent of the mythical creature. The collection also features the Cleo Emerald Drop Earrings, which juxtapose the orientation of diamond drops and rounds, adding a stateliness to elegance.
The Tidore Emerald and The Cavalieri Emerald Pendant offer contrasting, yet equally provocative necklace looks. The Tidore Emerald features two large emerald-cut emeralds, both haloed by a symmetrical pattern of round diamonds. The larger of the two gems has an added layer of dramatic beauty outside the halo, with east-west set oval diamonds, set with round faceted emeralds in between. A feast for the eyes set in 18K white gold, it is the perfect gift to add a royal look to mom's jewelry wardrobe. Similarly, the Cavalieri Emerald Pendant also has two large emeralds, but the top stone is square-cut, while the bottom features an emerald-cut gem. Surrounded by drop shaped diamonds in varied orientations, this necklace playfully alternates space, with leaf-like diamonds dripping above and below the square-cut gemstone.
The staple of any gala, party, or black dress is the cocktail ring. Make mom the center of attention with the bespoke Elsie Emerald Ring, or the Eliza Emerald. The former stuns with its silky color, capturing all in a vivid globe of green. The cabochon sits upon its diamond floral frame, with scalloped round diamonds over marquise cuts, an interplay of shapes on a half-paved band. The Eliza Emerald, on the other hand, is a straight, geometric masterpiece, reminiscent of the rings worn in the roaring 20's. An emerald-cut stone sits above a tour-de-force of racing baguettes, drops, and hidden delicate round diamonds in varied sizes, adding sparkle from below.
For more information about Valani Atelier, visit valaniatelier.com, call 212-702-9703, or contact Valani Atelier through their contact page. For questions regarding this release, contact Olga Gonzalez at info(at)pietrapr.com or call 212-913-9761.
ABOUT HEENA CHHEDA SHAH
Valani Atelier Co-Founder and Creative Director Heena Chheda Shah is the youngest jewelry designer to have won prestigious AGTA Spectrum, Platinum Guild, and Women's Jewelry Association Awards three years in a row. She has trained at the Gemological Institute of America and has a background in industrial engineering, having worked at Michelin in Lyon, France, Google in San Francisco, and as a consultant in New York City.
ABOUT VALANI ATELIER
Based in New York, Valani Atelier sells 18 Karat gold jewelry set with rubies, emeralds, sapphires, and pearls sourced directly from mining centers in Brazil, Colombia, Zambia, Mozambique, and Japan. Following the traditions of craftsmanship perfected by generations of Italian goldsmiths, the results are masterfully executed pieces that combine a heritage of artistry and striking design.