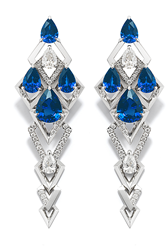 Stake your claim to minimalist elegance for the upcoming seasons with soft gray tones in lux materials and pair with white gold and sapphires for a palette as cool and steely as a winter sky.
NEW YORK (PRWEB) August 22, 2018
The saturated blues of the gemstone have enthralled centuries of admirers. From royalty to film, red carpet to renaissance painting, sapphires are donned and venerated for their durability, luster, color, and versatility. The blue gem has proven timeless, modifying its look, yet maintaining a resplendent nature. For today's woman, Valani Atelier's sapphire concept collection incorporates jewelry for glamorous evenings out, push gifts celebrating new moms, and every day self-purchase…perfect for fall to winter style.
"As September's exquisite birthstone, sapphires are the strongest natural gemstones currently in existence, making a great choice for an engagement ring or special gift to be worn and enjoyed every day. Valani Atelier carefully selects the most vivid deep blue sapphires from premier mines in Sri Lanka, and supports responsible and sustainable mining practices, creating a unique experience for its customers," says Heena Shah, co-founder and designer for Valani Atelier.
A popular choice for "something blue" alternative bridal, the Rival Sapphire Ring elegantly juxtaposes two pear-shaped stones, with an angular set diamonds, in 18K white gold. Also available in custom platinum, the ring easily adjusts up and down a finger size, elongating and accentuating hands for an elegant look. With access to exceptional natural sapphire material, Valani Atelier utilizes over eighty years of direct sourcing to find sapphires of exceptional color and cut, while supporting responsible mining, and traditional metalsmithing techniques; from bridal to fall and winter runways, the company is leading the conversation in colored gemstone fine jewelry.
For a night on the town, Vier Sapphire Earrings offer a dramatic, sweeping look. Pear-shaped sapphires meet diamonds set in geometric, diamond-shaped settings. Asymmetric stone placement creates unexpected and delightful patterns, boldly sweeping the collarbone and commanding attention in any room. For a classic earring style, Arris Sapphire Studs offer an understated look for the office, with a pop of color for enterprising women. For fashionistas, Vohk Chain Earrings are the perfect "me gift" for the September-born. Striking and refined, a chain sweeps through one or more piercings for multiple looks, with a round brilliant sapphire set in a white gold shield…an accessory for the modern wonder woman.
Shah says, "Stake your claim to minimalist elegance for the upcoming seasons with soft gray tones in lux materials and pair with white gold and sapphires for a palette as cool and steely as a winter sky. Wear the Arris Sapphire Studs for that stunning pop of color or the Vohk Chain Earrings for a trendier look- subtle yet provocative."
For September push-gifts, the new Arris Bracelet offers sleek, sexy, adjustable links, which can be layered or worn solo to celebrate the birth of a little one. Ideal for a new mom, or presented as a birthday gift, appreciate strength with a piece that adds glamour to her world.
For more information about Valani Atelier, visit http://www.valani.com, call 212-702-9703, or contact Valani Atelier through their contact page. For questions regarding this release, contact Olga Gonzalez at info(at)pietrapr.com or call 212-913-9761.
ABOUT HEENA CHHEDA SHAH
Valani Atelier Co-Founder and Creative Director Heena Chheda Shah is the youngest jewelry designer to have won prestigious AGTA Spectrum, Platinum Guild, and Women's Jewelry Association Awards three years in a row. She has trained at the Gemological Institute of America and has a background in industrial engineering, having worked at Michelin in Lyon, France, Google in San Francisco, and as a consultant in New York City.
ABOUT VALANI ATELIER
Based in New York, Valani Atelier sells 18 Karat gold jewelry set with rubies, emeralds, sapphires, and pearls sourced directly from mining centers in Brazil, Colombia, Zambia, Mozambique, and Japan. Following the traditions of craftsmanship perfected by generations of Italian goldsmiths, the results are masterfully executed pieces that combine a heritage of artistry and striking design.