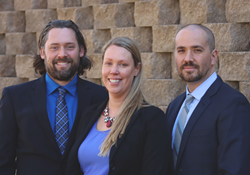 This leadership transition is like shifting from a one-engine to a three-engine rocket that will propel the growth of the firm, both in Kansas City and across the country.
OVERLAND PARK, Kan. (PRWEB) March 22, 2021
Valbridge Property Advisors-Kansas City, one of the largest full-service real estate valuation and consulting firms in Kansas City, today announced the firm's next generation leadership team. Daniel Kann, MAI, MSRE, and Jason Roos, MAI, will succeed Laird Goldsborough, MAI, MRE, to lead the firm as senior managing directors, together with Joanne Montgomery as president. The new leadership team's proven experience will build on the firm's four decades of success as an industry leader in Kansas City and across the U.S.
"Laird now passes the baton to me, Daniel and Joanne," said Jason Roos. "It's an honor to have his trust and support as we continue the firm's successful growth that began 43 years ago." Valbridge-Kansas City has had a trajectory of record revenue for the past three years; last year marked the highest revenue in the firm's history.
Goldsborough, who led the successful growth of the firm since 1990, will continue as Vice Chairman of the Valbridge Property Advisors Board of Directors, while serving as a mentor to the new leadership team, lending his three decades of expertise.
"I've had the privilege to work closely with Daniel, Jason and Joanne. Together, we've been preparing to harness their collective expertise to take Valbridge-Kansas City to the next level — and now is the time," said Goldsborough. "This leadership transition is like shifting from a one-engine to a three-engine rocket that will propel the growth of the firm, both in Kansas City and across the country."
Valbridge-Kansas City, previously Shaner Appraisals, was founded by Bernie Shaner, MAI, SRA, in 1978. In 2004, Goldsborough purchased the firm. In 2013, Goldsborough was instrumental in bringing Shaner Appraisals together with 42 appraisal companies across the U.S. to form Valbridge Property Advisors. Today, Valbridge Property Advisors is the largest independent, national commercial property valuation and advisory services firm with 80 locations in North America. This month, Valbridge-Kansas City will celebrate 43 years in Kansas City (eight years as Valbridge-Kansas City).
"Since Valbridge Property Advisors launched nationwide in 2013, the Valbridge-Kansas City office has been instrumental to our success," said Rick Armalavage CEO and President of Valbridge Property Advisors headquartered in Naples, Florida. "Now with this new generation of leadership that taps Jason and Daniel's nationally recognized expertise and Joanne's proven leadership, Valbridge-Kansas City will continue to be a guiding example of excellence to propel the company to new levels of growth and success."
Daniel Kann, who also started at Valbridge-Kansas City in 2007, joins Roos as senior managing director. Also an MAI designated member of the Appraisal Institute, Kann leads the national Valbridge Multi-Family Specialty Practice Group to conduct market studies and valuation for new construction.
"Daniel brings an unparalleled depth of experience that has earned Valbridge-Kansas City a national reputation for its multi-family valuation expertise," said Goldsborough.
Since 2015, Kann has completed assignments totaling over $10 billion. High-profile multi-family assignments in the Kansas City area include One Light, Two Light, Mission Farms and numerous loft and conversion projects in the urban core. The specialty practice has also completed assignments in Denver, Charlotte, Dallas, Detroit and Philadelphia.
Kann shares his expertise as an adjunct professor in real estate valuation as part of the Master of Science in Entrepreneurial Real Estate program through the University of Missouri-Kansas City's Bloch School of Management. Kann also is a Young Leader of the Urban Land Institute, a Certified Commercial Investment Member candidate with the CCIM Institute, and member of the Kansas City Chapter of the National Apartment Association.
Jason Roos, who joined Valbridge-Kansas City in 2007, brings local and national experience to the firm's leadership, including valuation work in 20 markets across the country. Roos, an MAI designated member of the Appraisal Institute, is past president of the Appraisal Institute's Kansas City Chapter.
"While many appraisers only work in their local market, Jason brings a broader perspective to Valbridge-Kansas City clients from his valuation work in diverse markets across the country," Goldsborough said. Roos has extensive experience conducting industrial and manufacturing property appraisals across the U.S. He also leads the firm's specialty in Triple Net (NNN) property valuations for clients with national franchise tenants, including Applebee's, Burger King, O'Reilly Automotive, Taco Bell, Dollar General and Family Dollar.
Roos also is a member of the Valbridge Property Advisors Long-Range Planning Committee. "As our youngest member, Roos brings contemporary insights to our vision for the future, including our strategic approach to succession planning that is critical to our steady and sustainable national growth," Armalavage added.
Joanne Montgomery brings expertise in operations and executive management to the Valbridge-Kansas City leadership team as president. Since joining the firm in 2013, Montgomery has been instrumental in leading human resources, marketing and business development. She is currently a Kansas City Centurion (Spring '22), a competitive Kansas City Chamber of Commerce two-year program for emerging leaders.
"Joanne's expertise in managing all facets of the firm's growth beyond core appraisal work will be critical to the future of Valbridge-Kansas City," Goldsborough said. "Her passion for empowering staff and cultivating a supportive culture is invaluable to the firm's continued success."
Montgomery has been influential in supporting the professional growth of women in helping to found the national Valbridge Women's Council, serving as immediate past president. Valbridge Property Advisors is one of the first in the industry to establish a national program for its female professionals. With over 125 members, the Council offers a national platform for mentoring, networking and other professional advancement resources.
"Commercial real estate has traditionally been a male-dominated industry," Montgomery said. "As women continue to enter and excel in the appraisal industry, it's critical to the firm's future to support their professional development." Valbridge-Kansas City is reaping the success of Montgomery's leadership with women representing 30 percent of its staff, compared to the industry's 25 percent.
Specialty expertise and national collaboration key to future growth
Valbridge-Kansas City's impressive roster of signature assignments include the Kansas City Power and Light Entertainment District, One KC Place (the largest office building in Kansas City) and Subtropolis (the world's largest underground storage complex). The firm works with state and federal agencies including the Federal Aviation Administration, U.S. Postal Service, U.S. Army Corps of Engineers, as well as banks including UMB and Commerce Bank, and accounting and law firms throughout the Midwest.
In addition to expertise in multi-family and Triple Net (NNN) valuation, Valbridge-Kansas City has earned a national reputation for its specialty services, including right of way, mining valuation, hotel and hospitality, litigation support, and tax/estate planning.
"While delivering comprehensive valuation services for all types of land and properties, we will continue to leverage our niche expertise to accelerate Valbridge-Kansas City's future growth," Roos said. "We'll also continue strengthening national collaborations with our network of 80 Valbridge offices across the U.S. to provide our clients the most accurate, verified data and localized expertise in every market across the country."
About Valbridge Property Advisors-Kansas City
Valbridge Property Advisors-Kansas City is a full-service real estate valuation and consulting firm located in Overland Park, Kansas. Valbridge-Kansas City provides independent valuation and advisory services to local, regional, multi-market, and national clients. The firm is comprised of 18 commercial real estate appraisers and analysts, including 7 MAI designated members of the Appraisal Institute, which signifies the highest achievement in real estate appraisal, and 8 certified general appraisers. The staff includes two past presidents of the Kansas City Chapter of the Appraisal Institute. For more information, visit: https://www.valbridge.com