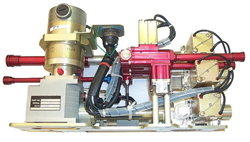 The resulting design has proven to be extremely reliable over thousands of hours in service.
SPRINGFIELD, N.J. (PRWEB) February 06, 2020
Valcor Engineering Corporation, a world-class designer and manufacturer of custom precision fluid controls, motion controls, and turnkey systems for space, aircraft, nuclear, and scientific/industrial clients, has just released a new paper on Fuel Management Systems in Unmanned Aerial Vehicles (UAVs), entitled "A Delicate Balance: A Fuel Management System for Unmanned Aerial Vehicles."
Valcor was tasked by a long-time customer to create a turn-key fuel management system for a new UAV. This paper discusses why the fuel management system is needed and what an engineering team needs to know in order to construct the best solution.
"The resulting design has proven to be extremely reliable over thousands of hours in service," according to Paul Meyers, Aerospace Sales & Marketing Director. "Valcor also provides the customer with a factory overhaul program, which services each component in the system and returns the system to the factory-fresh, like-new condition."
The full paper can be found here: https://www.valcor.com/a-delicate-balance/.
About Valcor
Valcor Engineering Corporation (http://www.valcor.com), founded in 1951, designs and manufactures solenoid valves and other fluid control components, as well as subsystems, clutches, brakes and OBIGGS systems in critical applications in the aerospace, nuclear, light industrial and scientific industries. Headquartered in Springfield, New Jersey, Valcor's world-class staff of engineers, designers, and technical support personnel utilize fully equipped, modern test facilities to test the most precise and exacting standards.
With a library of more than 18,000 designs, Valcor's design team can modify existing technology to suit practically every hard to handle application. Valcor specializes in custom applications and can create an entirely new product to meet your needs.