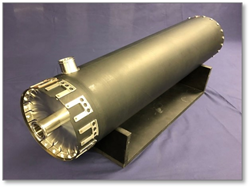 SPRINGFIELD, N.J. (PRWEB) October 27, 2020
Valcor Engineering Corporation, a world-class designer and manufacturer of custom precision fluid controls for nuclear, space, aircraft, and scientific/industrial industries, has just released a new white paper on solenoid operated valves, entitled "Keeping Fuel Tanks Safe from Destruction."
This paper discusses the history of fuel tank inerting on aircraft from the 1950s to today, including the development and benefits of Air Separation Modules (ASM) used in On-Board Inert Gas Generating Systems (OBIGGS) on both military and commercial aircraft.
"Valcor's newest ASM design draws from over 75 million cumulative flight hours, providing a wealth of data," stated Steve Etter, Vice President of Aftermarket Sales. "We raised the bar setting our own internal design and qualification requirements to provide operators with a significantly improved durability at a very competitive price."
The full paper can be found here:
https://www.valcor.com/keeping-fuel-tanks-safe-destruction/
About Valcor
Valcor Engineering Corporation (http://www.valcor.com), founded in 1951, designs and manufactures solenoid valves and other fluid control components, as well as subsystems, clutches, brakes and OBIGGS systems in critical applications in the aerospace, nuclear, light industrial and scientific industries. Headquartered in Springfield, New Jersey, Valcor's world-class staff of engineers, designers, and technical support personnel utilize fully equipped, modern test facilities to test the most precise and exacting standards.
With a library of more than 18,000 designs, Valcor's design team can modify existing technology to suit practically every hard to handle application. Valcor specializes in custom applications and can create an entirely new product to meet your needs.