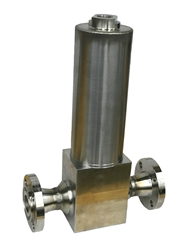 SPRINGFIELD, N.J. (PRWEB) August 17, 2020
Valcor Engineering Corporation, a world-class designer and manufacturer of custom precision fluid controls for nuclear, space, aircraft, and scientific/industrial industries, has just released a new white paper on solenoid operated valves, entitled "Two-Way Normally Open Solenoid Valve For Nuclear Service."
Valcor was tasked with designing a two-way, normally open solenoid valve that could handle hot, highly radioactive and chemically toxic fluids while sumberged in water. The valve also had to continuously function without maintenance for extended periods of time. This paper discusses the factors involved in making valves to such rigorous design and code requirements in order to qualify for use in such demanding applications.
The resulting valve design exceeded the requirements, and is used in many applications throughout the process system. Iterations of the final design could also work for applications in refrigeration, active pharmaceutical ingredient production for biotech and pharmaceutical manufacturing, as well as many others.
"Never before has a solenoid operated valve been conceived of handling so many technical challenges," stated Steve Gatcomb, Nuclear & Power Sales & Marketing Director. "This is truly a unique design that will provide years of dependable service."
The full paper can be found here:
https://www.valcor.com/valcor-releases-new-white-paper-solenoid-operated-valve-design/
About Valcor
Valcor Engineering Corporation (http://www.valcor.com), founded in 1951, designs and manufactures solenoid valves and other fluid control components, as well as subsystems, clutches, brakes and OBIGGS systems in critical applications in the aerospace, nuclear, light industrial and scientific industries. Headquartered in Springfield, New Jersey, Valcor's world-class staff of engineers, designers, and technical support personnel utilize fully equipped, modern test facilities to test the most precise and exacting standards.
With a library of more than 18,000 designs, Valcor's design team can modify existing technology to suit practically every hard to handle application. Valcor specializes in custom applications and can create an entirely new product to meet your needs.