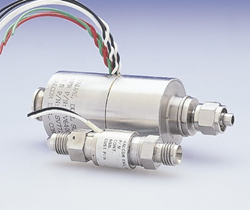 The design of a thruster valve is no small feat.
SPRINGFIELD, N.J. (PRWEB) January 09, 2020
Valcor Engineering Corporation, a world-class designer and manufacturer of custom precision fluid controls, motion controls, and turnkey systems for space, aircraft, nuclear, and scientific/industrial clients, has just released a new paper on Designing Thruster Valves, entitled "Thrust in Space: The Nuances of Thruster Valve Design."
This paper discusses the applications of thruster valves and how the specifications influence the design.
"The design of a thruster valve is no small feat," stated Rich Kelly, Senior Project Engineer. "Many application parameters must be carefully considered before the design process begins."
Typical information required includes fluid pressure, maximum flow, pressure drop, and end connections.
Recently, Valcor partnered with a well-respected veteran of the space industry to create a thruster valve for a new reusable space vehicle. The customer had some reservations about their original supplier and came to Valcor seeking an alternative, even though the project was already well underway. Under tight constraints, Valcor was able to use their vast knowledge of thruster valves to fast-track the design and was able to meet the customer's requirements.
To read more about thruster valve design and how Valcor can help, the full paper can be found here: https://www.valcor.com/thrust-space-nuances-thruster-valve-design/
About Valcor
Valcor Engineering Corporation (http://www.valcor.com), founded in 1951, designs and manufactures solenoid valves and other fluid control components, as well as subsystems, clutches, brakes and OBIGGS systems in critical applications in the aerospace, nuclear, light industrial and scientific industries. Headquartered in Springfield, New Jersey, Valcor's world-class staff of engineers, designers, and technical support personnel utilize fully equipped, modern test facilities to test the most precise and exacting standards.
With a library of more than 18,000 designs, Valcor's design team can modify existing technology to suit practically every hard to handle application. Valcor specializes in custom applications and can create an entirely new product to meet your needs.