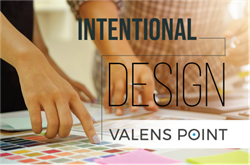 Technology consulting companies that invest in branding can really differentiate themselves from their competition" Martin Steinhobel, Managing Partner
RESTON, Va. (PRWEB) November 08, 2018
Valens Point has introduced a Branding Program focused on differentiating technology consulting companies from their competition. The program provides a structured approach to develop a clear message and a solid brand identity based squarely on this message. Valens Point views design as a means to better communicate and differentiate rather than an often somewhat arbitrary treatment of logo and marketing collateral.
"By basing brand identity development on a fundamental message, we are able to provide design that can earn its keep" says Martin Steinhobel, Managing Partner at Valens Point. "This is not about pretty pictures, but rather business results."
"A lot of technology consulting companies treat branding and brand identity as an afterthought or necessary evil and end up with brand identifies that look like everyone else's" continues Martin Steinhobel. "As a result, technology consulting companies that make an investment in branding and brand identity can really stand out."
The Valens Point Branding Program is structured into three very specific steps. Step one involves outlining why a brand refresh is necessary and fully understanding objectives to be achieved. This involves analyzing the current message, brand, and competitors and interviewing key employees and customers. A clear and concise description of the target market, benefits provided, and capabilities most looked for by would-be customers and the development of a solid value proposition are then developed.
Step two involves conducting design research and ideation, and refining options though review and revision. This is the step where brand identity elements are crafted to support the underlying message and practical style guidelines are established for the new brand.
Step three involves developing a communication plan and rollout guide and preparing and exporting design assets for widespread use. Signage is ordered, stationery, logo wear, and new collateral is developed, and the website and social media are made consistent with the new brand identity.
Martin Steinhobel adds, "The program is a simple, practical, and straightforward way for technology consulting companies to differentiate themselves from their competition."
About Valens Point
Valens Point provides virtual and scalable marketing departments that help technology consulting companies accelerate their growth. We build and manage marketing systems that deliver predictable and consistent results by balancing strategy, technology, process, and expertise. We remove the hassle and overhead of building and running an internal marketing department, so you can invest your time and energy into growing your business.