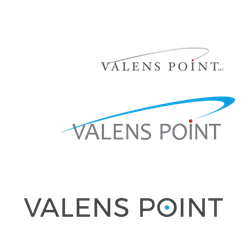 Companies exist in an ever-changing world and must evolve their brand identity from time to time to keep up, or risk falling behind." Martin Steinhobel, Managing Partner
RESTON, Va. (PRWEB) September 13, 2018
Valens Point has introduced an updated logo and new website to better address its target market - technology consulting companies - and more clearly demonstrate the benefits of having a scalable virtual marketing department – Valens Point's core offering.
Over time, logos and other brand identity elements can become stale and begin to look outdated. Innovative businesses are also constantly evolving in an ever-changing business landscape. "What we do, and how we describe what we do, changes over time. Just like it does for most companies" says Martin Steinhobel, Managing Partner at Valens Point. "Updating our website and adapting our brand to better support our messaging not only makes us more competitive, but also demonstrates our commitment to constantly review, evolve, and improve performance".
The new logo provides a lot more flexibility by providing options that can be stacked, allowing Valens Point's brand to be better represented in an online world. Websites, and website development are also continually evolving. This means that what worked well just a few years ago may now look somewhat dated. As concepts like UX (User Experience) design, and 'Growth-Driven' design become more and more mainstream, companies that are not taking advantage of these changes will fall behind.
Likewise, content and how content is presented is also constantly evolving. For this reason, Valens Point has implemented expert topic guides to provide more in-depth content, structured to better inform and educate the audience, streamline user interaction, and encourage engagement.
The company has deployed two such guides. The first, The Guide to Developing Your Brand Identity, provides a comprehensive look at value and process of developing a firm's brand identity. The second guide, The Guide to Content Marketing Success, makes a case for quality content. The company plans to add additional guides in the future.
About Valens Point
Valens Point provides virtual and scalable marketing departments that help technology consulting companies accelerate their growth. We build and manage marketing systems that deliver predictable and consistent results by balancing strategy, technology, process, and expertise. We remove the hassle and overhead of building and running an internal marketing department, so you can invest your time and energy into growing your business.