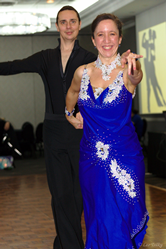 "The combination of dance and romance is a wonderful way to rekindle the spark for married couples," said Tom Murdock, of Arthur Murray International. "Valentine's Day gifts of chocolate and flowers only last so long, but a gift of a dance lesson is more than a lesson—it's a lifestyle."
CORAL GABLES, Fla. (PRWEB) February 13, 2020
Taking dance lessons is something wedding couples do routinely, but this Valentine's Day season, a survey of Arthur Murray Dance Studios reveals that many long-married couples are stepping onto the dance floor to add some romance and fun to their lives. They find it in the dance studio.
"We do have many couples who have come in who are already married, and have found that learning to dance has given their partnership a new spark, and are able to enjoy one another and connect on a different level," said Danielle Jenkins, with the Arthur Murray Dance Studio in Ventura, California.
After two of their children had been married, the Pondells told Chris and April Muller, owners of the Arthur Murray Dance Studio in Sugar Land, Texas, they didn't want to do the same "swaying in place" dance. For their third child's wedding, they decided it was time to learn how to dance. After mastering the foxtrot, rumba, swing, waltz and country two step, the couple are still taking lessons, attending group classes and having a great time dancing together.
"The combination of dance and romance is a wonderful way to rekindle the spark for married couples," said Tom Murdock, Vice President, Events and Promotions at Arthur Murray International. "Valentine's Day gifts of chocolate and flowers only last so long, but a gift of a dance lesson is more than a lesson—it's a lifestyle."
New romances bloom on the dance floor also. One couple met at the Silver Spring, Maryland Arthur Murray Dance Studio and nearly sixteen years later, they are still married—and still taking dance lessons.
From the Crows Nest Arthur Murray Dance Studio in Australia comes a romantic story of Leo Tsilkovsky and Charmian Canterbury, who met and fell in love on the dance floor more than seven years ago. Leo's friend was getting married, and he wanted to feel confident at the celebration. He surprised himself by quickly becoming a popular and charismatic dancer. A few years later, Charmian came to the studio in search of a new hobby.
"Both Charmian and Leo are extremely talented dancers, so no one was surprised when their friendship and love of dancing together developed into much more. Leo and Charmian are now engaged to be married. They take private classes at the studio individually, and practice regularly, take group classes and compete together at showcases and dance events," reports Joanne Middonte, owner of the Crows Nest Arthur Murray Dance Studio.
Couples who have been married for decades and those who have just met find a world of fun on the dance floor, every day of the year. Arthur Murray Dance Studios around the world have special offers for beginners. And every Arthur Murray Dance Studio relies on a time-tested system to make learning to dance at any level fun. Arthur Murray Dance Studios can be found in 270 cities in 22 countries around the world. For more information, visit http://www.arthurmurray.com.