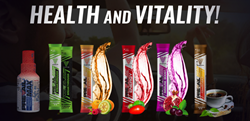 Las Vegas, Nevada (PRWEB) April 30, 2017
Valentus, the new health alternative Network Marketing company started by CEO Dave Jordan only a few years ago, is breaking all records with its range of all healthy just add water products with no GMOs. Leaders of the network marketing industry & internet are flocking to join up with the Chicago native in helping drive the fledgling company to new heights.
MLM veteran & published author John Heremza, Blue Diamond Ted Wilson of 12in24 lifestyle fame, former Google director Jerry Booth and many others have joined together in creating a company that has increased sales over 1,000% in the last year alone. Valentus' compensation package is also one of the best in the business, according to industry insiders. Some are saying this is the perfect time to jump onboard this wellness movement.
With Valentus Prevail Products, people all over the world are experiencing a new kind of health and vitality. Formulated with purest natural ingredients from some of the most pristine locations on the planet, the company prides itself not only on creating products that get results, but on creating products that are good for the body.
From its flagship product that many are calling the best health product EVER, to its super-antioxidant Immune Boost™, Prevail Energy™ & Prevail Trim™ and NOW the introduction of PrevailMAX™ and Breakthrough Am/Pm™, the Prevail line of products by Valentus are second to none!
New Products:
PrevailMAX™ is a nutritional breakthrough that delivers a rapid increase of internal blood cell pressure to speed absorption, enabling the body to take maximum advantage of the nutrients in foods and supplements. The nano-sized electrolytes are small enough to penetrate cell membranes to bind with cells and be carried wherever they are needed in the body.
At the microscopic level of human cells, PrevailMAX™ supports healthy cell performance – a nutritional breakthrough for cells. When a person uses PrevailMAX™, they will feel more energy and have the ability to focus like never before. Take a few sprays today and see just how good it feels!
Prevail Breakthrough™ is a simple 12 Day Cleanse (every 90 days) to assist in providing an optimal environment of digestion, detoxification and elimination. Prevail Breakthrough Am/Pm™ is two simple formulas designed for morning and night use that is a source of antioxidants and probiotics that will temporarily modify gut flora. This product will have one feeling fit, healthy and happy all day.
The AM Prevail BREAKTHROUGH formula contains ProDura® Bacillus coagulans, a spore-forming probiotic bacterium that is superior to non-spore probiotics. It will help lower cholesterol and lactose intolerance while raising HDL levels and lipid status.
The PM Prevail BREAKTHROUGH is a wholefood, powerful nutrient drink designed to detoxify. It has traditionally been used in herbal medicine as a diuretic and laxative to help treat digestive disturbances. This formula may help the body combat an overgrown Candida yeast infection, increase nutrient absorption and increase overall metabolism.
A quarterly regimen (every 90 days) is designed for ease of use, and only 12 days are needed to provide the optimal environment for digestion and detoxification. Start drinking! Your body will thank you.
The company's mission:
In Latin, the word "Valentus" means "prevail," defined as proving to be superior in strength, power, and influence. Recognizing that, we couldn't have picked a more fitting name for a company that strives to be the example in an industry that deserves a leader to follow.
Since day one, our focus, our passion, and our commitment have been to create a company, a product line, and an opportunity built on a foundation of integrity. From creating significant levels of income, to building strong networks, healthy long-lasting relationships, making new friends, participating in activities you never even knew existed, having the time to do the things you love with the people you love to be with, VALENTUS can help you PREVAIL in ALL of your goals!
For further information, please contact:
Jerry Booth ***Team Slim Roasts***
jerry(at)slimroasts(dot)com
Tel: (1) 204-918-4340
Valentus HQ
support(at)valentus(dot)com