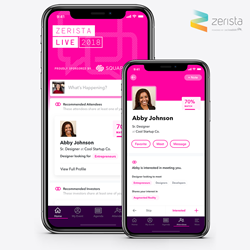 Event Marketers are always looking for ways to drive a higher evaluation response rate and more "call to action" conversions for our customers"
SEATTLE (PRWEB) July 24, 2018
By integrating Validar's live attendee behavior tracking data with Zerista's intuitive mobile application, attendees now can have a personalized experience driven from live event participation that can include things such as:

Live session suggestions
Live like attendee introductions
Subject Matter Expert introductions based upon content that generates renewed interest
Live evaluation notification and propagation while sessions on in progress
Sponsor ad presentation
Sponsor introductions that align with interests and activity
This integrated application is ideally suited to help attendees navigate large complex events so they don't miss content or opportunities to meet other attendees, sponsors, and subject matter experts that specifically align with their goals and objectives.
"I'm very excited about our partnership with Zerista. Now Validar can deliver tools to help Event Marketers assure that their attendees are getting the very most out of their event live during the event. Also, by integrating our EventHub mobile feedback application into Zerista, we can deliver session evaluations live that directly align with each individual attendees actual participation from one tab. Event Marketers are always looking for ways to drive a higher evaluation response rate and more "call to action" conversions", says Victor Kippes, CEO of Validar.
"Zerista is committed to providing the very best experience for all event attendees," said Tyler Conley, Vice President of Sales for Zerista. "Our partnership with Validar provides additional tools to personalize each attendee's experience and help them connect with the people and information they need most."
To learn more about Validar's registration and attendee behavior tracking solutions visit http://www.Validar.com.
More about Validar
Validar Inc. is the leading provider of lead management, lead capture, registration, and feedback technology for event marketers. Validar's technology and services help customers close the loop between event marketing and sales by providing the ability to drive relevant activity to sales while measuring the performance of their event marketing campaigns.
More about Zerista
Zerista powered by JackRabbit Systems is leading the event app industry with the most advanced event functionality in the world. Zerista is the most comprehensive, customizable, and intuitive event app on the market, delivering a better, more robust event with personalized experiences and proven ROI. For more information, please visit https://zerista.com/.
Additional news and information about the company is available at http://www.Validar.com/
OR contact: Victor Kippes, victork@validar.com (206)577-1123