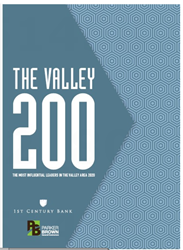 WOODLANDS HILLS, Calif. (PRWEB) August 25, 2020
The Valley 200 profiles Barry P. Goldberg as one the 200 luminaries they consider to be the most influential in the San Fernando Valley area.
The leading lights in the Valley 200 are accomplished business owners or operators. They helm organizations that strive to make the community a better place. A few of these notables are top educators. Many are consummate professionals. They have one thing in common — they are all engaged and active.
The Valley 200 were selected with specific assets in mind. First, those who were selected have been long-established as leaders in our San Fernando Valley area. Most of them have been consequential for decades. These are the most influential people in the San Fernando Valley area community. They are the standouts among the standouts, the most influential of those who are the most influential.
Also, these are heavyweights who have been engaged in several disciplines – such as business owners who have been involved in numerous charities, chambers, and business groups. They are people who care deeply about the San Fernando Valley community and its residents. As innovators and thought leaders, these are individuals who you would call on if you really, really desired to get something of a civic nature done.
It's not hard to fathom why a candidate like Barry P. Goldberg, A Professional Law Corporation, was chosen for this prestigious list. Barry P. Goldberg is the principal of his eponymous personal injury law firm in Woodland Hills, which handles motor vehicle, motorcycle and pedestrian accidents. Mr. Goldberg is a recognized expert uninsured and underinsured motorists law and arbitration. He is this year's president of the San Fernando Valley Bar Association representing about 2000 San Fernando Valley lawyers.
Goldberg has been named a "Super Lawyer" for the last nine years and his firm has made a Fastest Growing Law Firms list four years running. Attorney Barry P. Goldberg is most proud of growing his firm into a team with nine full-time employees, which "resulted in one marriage and two births!"
Goldberg is a lifelong San Fernando Valley resident. He attended Taft High School and obtained his bachelor's degree from UCLA. In 1984, he attained his J.D. from Loyola Law School. He is a well-rounded individual who also plays trombone for the Los Angeles Lawyers Philharmonic and Big Band of Barristers, which performs to benefit charities.
Barry P. Goldberg is an established leader with:

Expertise in insurance law and policy interpretation
Expertise and experience in civil litigation
Expertise in demonstrating legal and medical facts
A hallmark of attorney Barry P. Goldberg is his powerful and creative display of facts and evidence. His blending of legal expertise, personal communication skills, and the latest visual technologies is a powerful asset in today's fast-changing legal environment.
Barry P. Goldberg brings many accomplishments and experiences to the list of Advisors in the Valley 200. Mr. Goldberg is grateful for the distinction of being named to the Valley 200, once again, and aims to continue to serve the San Fernando Valley community now and in the future.