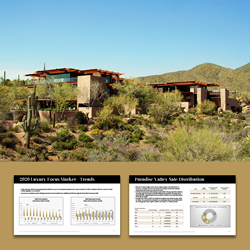 The Arizona luxury market has been steadily growing and the rapid influx of sophisticated buyers from out-of-state, especially California, has made it an ideal seller's market.
PHOENIX, Ariz. (PRWEB) March 09, 2021
This new to the market data-driven report on Arizona's luxury real estate market breaks down the trends in the affluent and highly sought-after Arizona neighborhoods of Paradise Valley, Biltmore, Arcadia and North Scottsdale. Valley Luxury Partners focuses exclusively on the sales of multi-million dollar properties. The Phoenix-metropolitan area's skyrocketing demand for homes over $1M over the last 18 months showcase it as one of the fastest-growing real estate markets in the United States. According to Robert Altshuler, the founder of Valley Luxury Partners, the endeavor of time and money required to develop a "hyper-local" luxury market report is necessary in this competitive market to give savvy clients an edge in making smart buying and selling decisions.
The real estate firm has formed a team that analyzes the emerging trends in the luxury market including pricing, home size, age and architectural style. The Valley Luxury Partners data analytics team's inaugural report takes a deep dive into specific luxury transactions from 2020 to provide clients with personalized insights into the future of the 2021 market and beyond. The report analyzes the luxury market in the COVID-19 pandemic, which made for a year unlike any other. Unlike other widely available real estate reports providing general market data, Valley Luxury Partners is focusing exclusively on Paradise Valley, Arcadia, Biltmore and North Scottsdale with single family residences listed over one million dollars.
By dedicating resources to data analytics, Valley Luxury Partners has positioned itself as a trusted source in Arizona for its clients and the media to understand the luxury residential market which is approaching a 3 million price threshold for listings in the focus markets it serves. The in-depth analysis identifies factors such as age, neighborhood and selling prices that will become key drivers in luxury real estate buying and selling in 2021. Some of the available data includes the average price per square foot, days on market, highest priced transactions in each specific neighborhood and insights into how architectural style and age of properties impacts listings. The analytics team identified the "must have" home features luxury buyers are seeking and the price threshold the market has shifted to. Additionally, Valley Luxury Partners looks at tax records to learn more about the profiles of buyers to effectively advise sellers on marketing properties to out-of-state luxury buyers looking to move to Arizona.
With an expansive network of high-net-worth clientele, Valley Luxury Partners provides an unprecedented level of service, expertise and global reach. The firm was selected by Clientele Luxury Global, a comprehensive media publication that reaches affluent subscribers, to be an exclusive agent team for Arizona.
The Valley Luxury Partners 2020 Luxury Real Estate Market Analysis is available here.
ABOUT VALLEY LUXURY PARTNERS
The Valley Luxury Partners team represents discerning buyers and sellers of luxury real estate in select markets in Arizona including Paradise Valley, Arcadia, Biltmore and North Scottsdale. Additionally, Valley Luxury Partners specializes in ground-up development, estate remodels and design services through its brokerage, RMB Realty LLC, and its general contractor, Mission Realty LLC.
ABOUT ROBERT ALTSHULER
Robert Altshuler is an Arizona licensed Realtor® and founder of Valley Luxury Partners. A prominent name in Arizona real estate and finance for over 20 years, Altshuler brings a dynamic combination of experience as a wealth manager and real estate attorney. Frequently quoted as an industry expert, Altshuler has been a contributor to Kiplinger Personal Finance. He was voted as a 40 under 40 business leader by the Phoenix Business Journal.
For more information about Valley Luxury Partners visit http://www.valleyluxurypartners.com or call 480-734-2455.