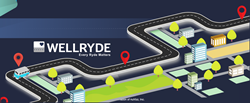 "Regional transit solutions play an important role in serving the community and enhancing the healthcare transportation reach. WellRyde is excited to bring the much-needed mainstream technology to this ecosystem."
ATLANTA (PRWEB) July 20, 2020
Valley Regional Transit has successfully implemented WellRyde software to manage their Rides2Wellness program. Rides2Wellness is an effort to break down transportation barriers by providing rides to those with various medical conditions. The program's goal is to keep them from being re-admitted to the hospital. Valley Regional Transit in partnership with medical centers like St. Luke's and Saint Alphonsus, provided over 25,000 rides with the Rides2Wellness program since 2016. The program is funded by Valley Regional Transit and participating hospitals.
Currently, Rides2wellness is offered to patients in Boise, Meridian and Eagle in Ada County. Valley Regional Transit is planning to expand the service into Canyon County.
Prior to utilizing WellRyde, Valley Regional Transit entered all data manually. With WellRyde software, Help Desk staff can now book ride requests, set up schedules to automatically create recurring trips and allow transportation providers to access trip requests from the WellRyde portal. Valley Regional Transit staff are now able to focus on streamlining the entire booking to completion process.
"We are proud to partner with Valley Regional Transit and provide them with a reliable technology platform that helps streamline the entire program. Now they are successfully able to setup recurring rides or book trips from our trip booking feature while taking calls from customers and allow its providers to claim trips from the portal for completion," said Veda Ramachandran, Vice President, Customer Success. "Regional transit solutions play an important role in serving the community and enhancing the healthcare transportation reach. WellRyde is excited to bring the much-needed mainstream technology to this ecosystem."
"We have been very happy with the transition to using the WellRyde software," said Leslie Pedrosa, VRT Operations Director. "It makes scheduling rides much easier for our staff and allows our transportation providers easy access to ride requests."
About Valley Regional Transit
Valley Regional Transit is the regional public transportation authority for Ada and Canyon counties in southwest Idaho. It provides fixed-route, ACCESS paratransit and shared mobility transportation services in the two-county region.
About nuVizz, Inc.
nuVizz, Inc. is a leading network-based last mile delivery & transportation management and customer experience SaaS platform. WellRyde, a nuVizz Transportation solution, is an award-winning network-based delivery & transportation platform. Our mission is to provide a human transportation cloud by leveraging technologies, transportation fleets and rider demand into a common platform. WellRyde provides solutions in the NEMT transportation, K-12, rural transit and demand response. Since its inception in 2015, as a specialized people movement platform, WellRyde has consistently focused on ease of use, ease of deployment, rider engagement and visibility. Combined with its capability of package movement, inherited from nuDeliverIt, WellRyde today is capable of delivering care solutions such as prescription delivery, hospital/ clinic supply, nurse visits, day care center visits under the broad umbrella of Non-Emergency Medical Services (NEMS). The HIPAA-compliant platform built on next gen micro-services architecture is poised for rapid growth and expansion and can support over 100 million trips a year. For more information on WellRyde please visit https://www.wellryde.com.
nuVizz Marketplace helps consolidate delivery & transportation demand and supply to create new opportunities for shippers/trip sources and carriers/transportation providers. nuVizz MarketPlace is a transportation network wide program and comes close on the heels of TripMarket that today boasts of nearly 2 million trips a year.
The nuVizz platform hosts more than 2000 companies, 35000+ drivers and supported more than 50 million transactions in 2019 on its SaaS platform. For more information, please visit http://www.nuvizz.com, http://www.nudeliverit.com, http://www.wellryde.com.
Contact: Veda Ramachandran
Vice President, Customer Success
veda@wellryde.com
sales@nuvizz.com
info@wellryde.com