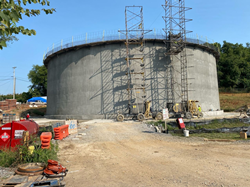 Crom LLC used PENETRON ADMIX-enhanced shotcrete to improve the durability of tank interior for long-term exposure to raw wastewater.
EAST SETAUKET, N.Y. (PRWEB) January 18, 2021
Construction of the Valleybrook Park equalization tank in Clarksville, Tennessee was completed in January 2021. PENETRON ADMIX was added to the concrete mix for the pre-stressed shotcrete tank to enhance durability of the underground structure.
Valleybrook Park is a neighborhood green space near downtown Clarksville, a city of about 160,000 inhabitants in Central Tennessee. The 8.4 acre park offers a walking trail, basketball & volleyball courts, grass playing fields, a covered pavilion, and restrooms. The Gallows Hollow Branch stream flows through the park.
As part of an overall $4.5 million park renovation and upgrade, the City of Clarksville mandated the installation of a sewer storage facility to equalize peak wastewater flows diverted from a 24 inch sanitary sewer. The project included a diversion structure, 24 inch force main, 24 inch gravity sewer, and a 3 million gallon wastewater storage tank.
A More Cost-Effective Solution
The structural engineers at Hazen & Sawyer originally specified an alternate solution for the 3 million gallon wastewater storage tank. However, PENETRON ADMIX, a crystalline permeability-reducing concrete admixture, turned out to be a more cost-effective and value-engineered solution. A substitution request was submitted by Crowder Construction, the general contractor, and approved by the engineer.
CROM LLC used PENETRON ADMIX-enhanced shotcrete to improve the durability of tank interior for long-term exposure to raw wastewater. PENETRON ADMIX is easily dosed during batching for shotcrete applications. The proprietary chemicals in the admixture react with moisture in the concrete to form insoluble crystals throughout the entire matrix, making the concrete impermeable.
Tracing PENETRON in the Mix
"CROM LLC utilized PENETRON ADMIX-enhanced shotcrete on this Valleybrook Park project to improve the durability attributes of the shotcrete. The addition of the admixture had no effect on the concrete mix properties or set time and the tracing agent that helps to identify the presence of Penetron Admix was a desirable added benefit."
Identifiable by a bright green tint in the bleed water, the non-toxic, non-staining tracer in PENETRON ADMIX provides construction and design teams with a reliable identification control tool – and proof that "PENETRON is in the mix."
The Penetron Group is a leading manufacturer of specialty construction products for concrete waterproofing, concrete repairs and floor preparation systems. The Group operates through a global network, offering support to the design and construction community through its regional offices, representatives and distribution channels.
For more information on Penetron crystalline technology solutions, please visit http://www.penetron.com, email: CRDept@penetron.com or contact our Corporate Relations Department at 631-941-9700.