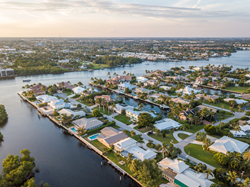 We are creating something special. In a world full of chaos, we are delivering tranquility and safety along with aesthetics and the convenience of beach sandal luxury.
CLEARWATER, Fla. (PRWEB) July 05, 2022
Inflation rates are surging.(1) Building material costs have skyrocketed by more than 20% over the past year; (2) and supply chain disruptions have rocked the construction industry. In the midst of it all, Valor Capital is set to celebrate a milestone in their Serena by the Sea project with a roof topping-off party. This accomplishment is poised to take place significantly ahead of their projected schedule, a dramatic contrast to what is happening across the industry.
The upcoming roof topping-off party will honor the incredible accomplishments of Valor Capital's construction group, signifying that work has reached the last roof level of their building. Being well ahead of its original delivery date of December 2023, this roof topping-off party is a testament to the wisdom of Valor Capital in creating its own construction company.
Valor Capital formed its own construction company, Valor Construction Group, to cater to their luxury condominium designs. By doing so, Valor can control construction costs, retain full oversight of the management of subcontractors, and ensure precise tracking of expenses and fund allocation. This has led them to operate at higher efficiencies and has protected them against the effects of the rise in diesel costs, timber, and labor. Yet, most importantly, this gives Valor Capital the flexibility to give its buyers best-in-class service on any warranty items and hidden defects, raising the bar for developers nationwide.
"While the sentiment of the world moves like a pendulum through the pandemic, inflation, interest rates, and war, we at Valor Capital focus all our efforts on bringing value to our communities, and the lives of our clients and those they love," states Moises Agami, CEO of Valor Capital. "We invest our energy in creating beautiful, aesthetic, healthy, and relaxing spaces where they can enjoy their lives and let the stress of life simply melt away. We will continue to build great communities all around us and look forward to showcasing our next projects soon."
Serena by the Sea is on the Gulf Coast of Clearwater, Fla., where the real estate market is particularly vibrant. A recent downtown waterfront project, Imagine Clearwater, is set to transform nearby Coachman Park into a world-class destination.(3) Simultaneously, the city is working with a NY developer's $400 million plan to expand the city's downtown bluff with residential, retail, and hotel projects.(4)
Additionally, adding to the appeal of those looking to relocate to the area, Brightline and Central Florida's Sunshine Corridor were recently awarded up to $15,875,000 in federal funds to begin work on a proposed Tampa to Orlando intercity passenger rail project.(5)
The Florida real estate explosion is attracting buyers from around the globe. Since 2010, the Sunshine State has gained over 2.7 million new residents(6), with people flocking to the area due to the pleasant climate, low tax rates, favorable economy, and luxury lifestyle.
For those looking to live in Florida, the state is ripe with job opportunities. In April, Governor Ron DeSantis announced Florida's March 2022 employment data, which showed a decline in unemployment rates and strong job growth.(7)
There is also a continual migration of remote workers from the Northeast to Florida. Today, Florida boasts a $23 billion freelance economy, with the Tampa Bay area ranking as among the nation's fastest-growing markets for independent workers.(8)
Increasingly, people are seeking serenity and wish to live away from the hustle and bustle of metropolitan cities. This is due in part to the high cost of living associated with major U.S. cities paired with a desire for safer, more luxury-focused living.
Valor Capital's second luxury real estate development in Florida, Serena by the Sea, is a resort-style waterfront condominium development with striking architectural designs reflecting their unique concept of relaxed luxury and quality.
"We are creating something special. In a world full of chaos, we are delivering tranquility and safety along with aesthetics and the convenience of beach sandal luxury," says Regina Sotomayor, Vice President of Valor Capital.
People from all over the world have come to learn about Serena, with buyers from Australia to Germany, UK to Canada as well as Mexico to Portugal all vying for a space in the affluent real estate market of Tampa Bay.
With the roof topping-off party set to take place ahead of schedule, future residents and potential buyers are eagerly awaiting their first glimpse into their new seaside home, all while Valor Capital puts the finishing touches on their upcoming next development project, Serena Residences.
About Valor Capital
Valor Capital is a team of entrepreneurs passionate about creating world-class real estate experiences. They are an affiliate; a new venture spinoff of an international development firm, Terra Capital Partners SA de CV (Terra Capital Partners). With a four-decade history of real estate developments in office, hospitality, medical, commercial and luxury residential product offerings — and a multi-billion-dollar portfolio and tens of millions of square feet already developed and sold — Valor's developments are always on the cutting-edge, with proprietary anti-viral engineering design used throughout the firm's newest developments. Visit http://www.valorc.com  
1. Pettypiece, Shannon. "Inflation takes a bite out of Biden's infrastructure ambitions." NBC News, June 6, 2022, nbcnews.com/politics/white-house/inflation-takes-bite-bidens-infrastructure-ambitions-rcna31772.
2. "Producer Price Index by Industry: Building Material and Supplies Dealers." FRED Economic Data, June 14, 2022, fred.stlouisfed.org/series/PCU44414441.
3. White, D'Ann Lawrence. "Here's What Clearwater Imagines It Will Get For $84 Million." Patch, July 26, 2021, patch.com/florida/clearwater/heres-what-clearwater-imagines-it-will-get-84-million.
4. McManus, Tracey. "Clearwater council picks developer's $400 million plan for downtown bluff" Sun Coast News, June 19, 2022, suncoastnews.com/news/clearwater-council-picks-developer-s-400-million-plan-for-downtown-bluff/article_0f9b3084-aec0-59d6-a24f-6d07f3a09937.html.
5. Abad, Dylan. "Brightline awarded $15.9M for Tampa to Orlando high-speed rail." WFLA, June 2, 2022, wfla.com/news/florida/brightline-awarded-15-9m-for-tampa-to-orlando-high-speed-rail/.
6. Rohde, Jeff. "Florida's real estate market: Stats and trends for 2022." learn.roofstock.com/blog/florida-real-estate-market
7. "Florida's Economy Continues to Thrive." Florida Government, April 15, 2022, flgov.com/2022/04/15/floridas-economy-continues-to-thrive/
8. Cridlin, Jay. "Florida's $23 billion freelance economy is booming." Tampa Bay Times, May 25 tampabay.com/news/business/2022/05/25/floridas-23-billion-freelance-economy-is-booming-study-says/